All You Need to Know About Online E Payment
Credit card payments processing for online e-payment can never be easier. With Oceanpayment, you can target customers worldwide to grow your biz.
Online e payment allows customers to pay for the products or services through electronic methods. Normally, e-payment can be made using debit or credit card payments processing, e-checks, direct bank deposits, and other alternative e-payment methods like bitcoin, e-wallets, cryptocurrencies, and bank transfers.
Types of Online e Payment System
Online e payments can be made in the following ways:
Internet Banking
In such a case, payment can be made by transferring the funds digitally over the internet from one bank account to another.
Card Payments
It can be done using a credit card, debit card, stored value card, smart card, etc. In this case, an electronic device is used for accepting payments. Credit card payments processing is quite popular nowadays.
Smart card
It is a card having a microprocessor chip that can be used for credit card payments processing.
Stored Value Card
These cards have some amount of money stored in them to make online e payments. These are prepaid cards such as gift cards.
E-Cash
It is a type where the money is stored in a customer's device, and it can be used for making transfers.
E-Check
It is known as the digital version of a traditional paper check that can transfer funds within accounts.
E-Wallet
It is very common among customers, and it is a type of prepaid account where the customer's account information is stored for quick, smooth, and seamless payment processing.
Mobile Wallet
It is an advanced form of e-wallet, and customers around the world extensively use it. It is a virtual wallet that works in the form of an application installed on your mobile device. Mobile wallets are user-friendly and easy to use, and it helps customers make online e payments easily without being dependent on cash.
QR Payments
QR payments are quite popular; it is a code that involves a pixel pattern of squares or barcodes that are arranged in a square grid. Each part of the code stores information. This information is helpful to make online e payments; you need to scan the QR code through a mobile device.
Contactless Payments
This is becoming popular day by day. These online e payments can be made by using NFC and RFID technology.
Biometric Payments
Biometric payments can be made by scanning or using various body parts like fingerprint scanning, facial recognition, eye scanning, etc.
Online e Payments via Wearable Devices
Wearable devices are gaining popularity among customers. These devices are linked with customers' bank account and can be easily used for making online payments.
How Online e Payment System Works?
Entities involved in online e payment systems are:
• The merchant
• Customer
• Issuing bank
• The acquirer
• Payment gateway
• Payment processor
Online e payments involve the following:
1. Payment Initiation
2. Payment Authorization
3. Payment Processor
Benefits of Credit Card Payments Processing
People are comfortable with credit card payments processing for online shopping. With the help of this, it is easy to accept online payment for any business.
• Credit card payments processing for E-payments is making banking and shopping more convenient for the users. They are helping merchants to reach more clients locally and internationally.
• Credit cards payments processing is faster, and they offer efficient transactions.
• With online e payments through credit card payments processing, customers can easily pay online from anywhere, and it is convenient and accessible for the customers.
• Online payment solutions for credit card payments processing are easy to integrate with businesses.
• Online payment solutions for credit card payments processing offer more security and anti-fraud and risk-free tools to make them reliable and secure for merchants and customers.
• Online e payments are known to be highly effective in making international transactions.
If you are running an online business and want to integrate a payment gateway for credit card payments processing, Oceanpayment is ideal. It is a fast, secure, reliable, and flexible payment gateway that offers online businesses seamless transactions and security.
For some merchants who are new to global e-commerce business, they need to understand credit card receipts and payments. In the process of global ecommerce businesses expanding into foreign markets, credit card payment processing is an indispensable part of the payment process. Only by better solving the problems encountered in the online e-payment can the profits be maximized. So what is credit card payment processing? How does online e-payment work? Oceanpayment will give you a further explanation.
What is a credit card acquiring? How does the acquirer handle credit card payment processing?
Credit card acquiring refers to the collection of credit cards. Credit card acquiring service refers to the service of credit card collection provided by banks or payment companies. The website of global retail e-commerce is connected to the credit card payment interface. Consumers can directly purchase products on the website and pay with a credit card.
When consumers purchase a product on an e-commerce platform or website, it appears that the consumer is only paying on the page, but in fact this process involves the transfer of information and funds between many institutions. The acquirer needs to process the credit card payment. First, the consumer submits the payment information to the merchant, and the merchant submits the payment information to the acquirer. The acquirer then submits the payment information to the issuing bank of the consumer's credit card through the card scheme. After receiving the payment information, the issuing bank deducts the payment from the consumer's credit card, informs the consumer of the deduction information, and sends the information back to the credit card scheme at the same time. If the deduction goes well, the payment will be collected to the acquiring institution. Until this time, the receipt is considered complete.
What is online E-Payment?
An electronic payment system is a way to conduct transactions or pay for goods and services through online interface, without the use of checks or cash. It is also called electronic payment system or online payment system.
One of the most popular payment methods online is credit and debit cards. In addition, there are other payment methods, such as bank transfers, e-wallets etc. Let's have a look at the most commonly used electronic payment methods as follows:
Credit Card — A form of electronic payment system that requires the use of a card issued by a financial institution to a cardholder for online payment or payment through an electronic device instead of cash.
Electronic Wallet — A form of prepaid account used to store users' financial data, such as debit and credit card information, to make online transactions easier.
Direct Debit — A financial transaction in which the account holder instructs the bank to collect a certain amount of money from his account electronically to pay for goods or services.
E-Check — a digital version of an old paper check. This is an electronic transfer from a bank account (usually a checking account) instead of using paper checks.
Electronic cash is a form of electronic payment system in which a certain amount of money is stored on the customer's device and can be used for online transactions. Stored-value card, a card with a certain amount of money that can be used for transactions at the issuing bank. A typical example of a stored-value card is a gift card.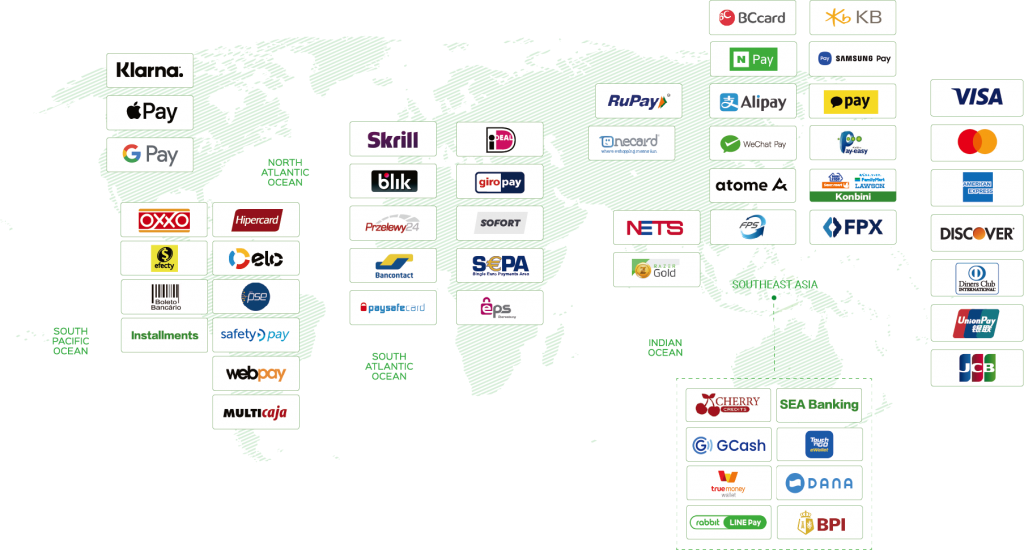 Features of Oceanpayment online e-payment
Since its establishment in 2014, Oceanpayment has been continuously developing its localized operation and technical support capabilities under global payment products, and has always maintained product advantages and industry leadership:
• Support 500+ global payment products, including credit cards and local payment products worldwide. The payment success rate is as high as 95%.
• Support the domestic and foreign funds. Oceanpayment provides efficient and fast multi-currency settlement.
• Professional risk control, artificial intelligence + big data to ensure data security, resist more than 99% of transaction risks.
• Full-scenario payment. Oceanpayment provides customized full-scenario payment technology solutions no matter whether it is online shopping malls or offline physical stores.
• B2B/2C full-service, providing goods trade for cross-border shopping consumers, and service trade merchants with one-stop global digital payment technology solutions.