With a unique digital payment system that allows its users to make payments later, Klarna, a Swedish payment firm, has become one of the most valuable fintech in Europe.
Due to its "buy now, pay later" strategy, this payment system provider has caught every investor's attention, making it the sixth-largest private fintech in the world.
With a $460M round of investor funding, Klarna continues its drive into the US ecommerce market.
What Is Klarna?
Established to simplify online shopping, Klarna was launched in Sweden. Slowly it expanded into Norway, Denmark, and Finland by 2010. Over the course of another year, Klarna also became available to shoppers in Netherlands and Germany.
This alternate payment method targets online business markets, increasing sales conversions of e-commerce.
This payment app lets users buy something and pay for it over time by utilizing its payment plans. It also gives users extra time to pay for things they cannot afford in a single installment.
Why Choose Klarna as Your Payment Method
As of today, the alternate payment app Klarna has gained a large customer base worldwide by enabling them to shop online with added convenience.
Ecommerce payment methods should be customizable, flexible, and accessible. Online stores can achieve this by using Klarna, allowing customers to pay with alternate payment plans.
Integrating with Klarna is beneficial for merchants because they get total upfront payments. But the customer can choose various other payment plans where they can choose to pay later. For customers and merchants, it has the following various benefits.
Payment Flexibility
Klarna offers three different ways of deferring payments which lets the customers manage their cash flow. It helps the customers pay later, which results in fewer abandoned carts at the time of checkout. This increases an e-store's conversion rate.
Full Refund
Customers can get a full refund in case of order return or cancellation. Once the merchant confirms the cancellation, Klarna makes timely refunds.
Regular Payment Reminders
Customers also get regular payment reminders, so merchants do not send periodic payment reminders. Instead, Klarna sends timely reminders to ensure that the customer makes the installment on the due date.
No Hidden Charges
Customers don't have to deal with hidden charges or interest rates on late payment fees. Instead, they have to choose one of the three payment options that Klarna offers.
Alternative Repayment Solutions
If a customer cannot make the payment on the due date, Klarna helps them find a suitable alternative repayment solution. This allows the customers to deal with their inability to repay on time.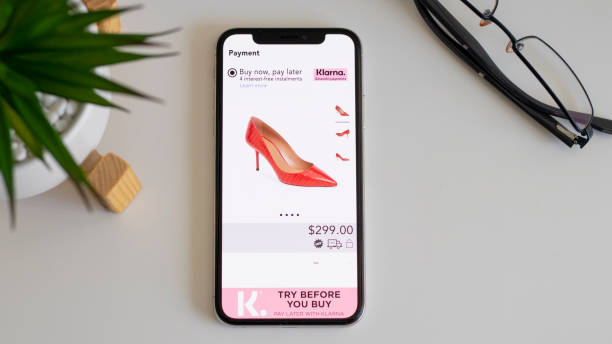 Key Features of Klarna Payment Method
Klarna offers a set of solutions to consumers to pay to the merchants on ecommerce stores. The four primary value propositions of Klarna are convenience, risk reduction, performance, and brand. Here are the critical features of this payment method.
Pay Later
The "pay later" option lets the consumers pay in either 14 or 30 days, offering them to make delayed payments with no interest or added fees.
After the merchants captures the order, Klarna pays them the full payment according to the agreement signed, while the customer can pay for it in 14 or 30 days to Klarna.
Pay Now
Customers can make immediate payments via secure bank transfer with the option 'Pay Now.' After a customer makes their payment via this option, Klarna saves their details for future purchases.
Slice It / Pay in 3 / Pay in 4
This option helps spread the cost over six months to three years. For UK, this option is tailored to consumer habits to enable the payment to be made in 3 installments while for US, in 4. Consumer can use a debit or credit card to purchase. Klarna will charge for the installments on the consumer's preferred card.
How Does Klarna Work?
Klarna works by offering alternative payment methods to credit cards, enabling users to shop through its various payment systems. Unlike credit cards, Klarna pays the merchants upfront and it does not charge consumers interest or additional fees.
Besides this, the customers can pay in 14 or 30 days after the order is captured. Klarna also conducts automatic checks on the customer to ensure they can make the payment in installments. Due to this, the value of orders placed through Klarna keeps increasing.
More people are looking for more secure alternate payment methods to make cashless transactions. This is why global payment services such as Oceanpayment are gaining popularity in e-commerce.
Why You Choose Oceanpayment for Your Global Payment Solution
Before choosing payment platforms for your business, ensure that it supports alternate payment methods to help your business grow. Moreover, alternate payment methods create convenience for customers.
If merchants do not offer their customers convenient alternatives, they will likely lose the influx of buyers on their e-stores.
Oceanpayment is one such ecommerce payment processing platform that simplifies payment processing and offers 500 alternate payment methods.
Oceanpayment also supports desktop, mobile, TV, and other user interfaces, enabling customers to make payments via any available channel. Thus, it is a comprehensive payment solution for all large and small scale businesses looking to process e-payments.
Many customers are hesitant about using anonymous payment platforms due to the prevalent threat of data breaches in online transactions. However, Oceanpayment offers end-to-end encryption and maximum transparency to its users.
Moreover, this global payment service has worked with thousands of businesses to provide them with highly safe transaction methods. This all-in-one payment processing platform offers customized payment solutions to your business needs.
Conclusion
Services like Klarna have gained popularity in recent years because of their flexible and convenient payment options. As a result, Klarna has built an awe-inspiring digital payment ecosystem which merchants and consumers highly trust.
Accessible and secure global payment services are also more appealing to young shoppers because they are more likely to shop on credit.
The more financing options a service offers, the more successful it will become in today's world. Thus, you should consult Oceanpayment for all your payment queries and offer your consumers up to 500 alternate payment methods for added convenience and payment flexibility.