To make global payments, a gateway for credit card processing has to be set up. Opt for the professional service of Oceanpayment to receive the latest Google Pay online shopping application.
The concept of global purchases and international money transactions has made online purchases a suitable option for most organizations. The trend of online shopping has been increasing regularly, and the Google Pay online shopping application has managed to offer the best services. It is common for people to wonder why the Google Pay online payment technique has become famous when compared to other features.
What is a Google Pay online payment?
The Google pay online shopping application is UPI based payment system that permits online transaction of money through a secure payment gateway. This advanced Google Pay online payment application can be used by the merchant to support their clients with multiple payment offers. It is used to create a connection between The Merchant and the client for a secure money transaction. The clients can choose the payment mode of their choice with the Google Pay online shopping application.
Features of Google Pay online payment
The advanced Google Pay online payment system allows users to perform online shopping on multiple websites like Amazon. The main reason that people prefer the Google pay online shopping application has been its features. Some of the features have been listed below for your verification.
● Less formality – The Google Pay online payment application is faster and reliable. Along with that, the transactions made between the Merchant and customers are faster with less formality. When compared to certain payment gateways the transaction can be completed within a period of 2 to 3 minutes. Instead of having multiple security questions, Google Pay online shopping application approved the transaction with a simple OTP combination. Even a person with less knowledge of online banking can access Google pay online payment with ease.
● Diversity – The Google Pay online payment allows international transactions regardless of the currency used by the client. The process is simple, and all the client needs to do is enter the card details for banking details within the application and transfer the money to the merchant account through the UPI id established on the website. Google pay online shopping can be made easy with the multiple payment options it offers. Some features include credit card transactions, debit card transactions, digital wallets, and UPI transactions.
How can the merchants use the Google Pay online payment technique?
The merchants can display their UPI details or the QR code on the shop for the direct transaction of the money through Google Pay online payment. But for online transactions, the merchants can contact the online payment gateway providers to integrate Google pay online shopping application with their website. All the client needs to do is just click on the link for payment, and they will be automated to their personal Google Pay online payment application.
Benefits of using Google pay online shopping
The main benefit of using the Google pay online shopping application is the ease of transaction. Some of the benefits have been listed below for your verification.
● Google Pay online payment reduces the chances of transaction failure and cancellation.
● The Google pay online shopping application can be integrated with multiple other applications.
● The Google Pay online payment site offers you a chance to connect with many clients and enjoy regular payment services. The transfers are simpler and quicker.
● With a leisure payment technique, the customers will buy more through the Google Pay online payment.
All these benefits offered by Google pay online shopping has made it a preferable choice for the customers.
Why choose Oceanpayment?
As a leading business developer, it is common for the merchant to try new techniques to improve customer satisfaction. The Google pay online payment service is one such feature that can be integrated into your site for easy money transfer. Oceanpayment offers you custom payment gateway solutions. The feature offered by the oceanpayment service provider can be increased or reduced through a regular monthly schedule. Customer preference and quality have been the main option for service providers like Oceanpayment.
Nowadays, customers want their checkout and payment process to be as smooth and easy as possible. No one wants to go through five steps to finally checkout, nor do they want to opt for a payment method that they don't prefer. So, it makes sense to use Google Pay online to accept payments in your store.
If people are looking for convenience, that's exactly what you should give them. Google Pay online payment allows you to make the buying experience more rewarding, convenient, and fast for your customers.
Google Pay online shopping features include easy online integration, brand affinity, and enhanced security. Below, we discuss Google Pay online payment in detail along with the best service provider to partner with for Google Pay integration into your store.
Why Should You Offer Alternate Payment Methods?
A recent survey in which the researchers collected data from 41 studies showed that the cart abandonment rate is a little under 70%. To put it simply, seven of your customers will most likely not finish their purchase. That's a lot of sales you're losing.
One of the main reasons for your customers not finishing their purchases is the lack of payment options. Suppose you only offer PayPal as a payment option. What if your customer is from a country that's not supported by PayPal? What if your customer does not have a PayPal account?
They'll simply abandon their cart.
Instead, if you offer multiple payment options, especially mobile payments, you're likely to boost your sales. Experts forecast the mobile payment market to grow to $6.7 trillion by 2023. As for Google Pay, it has over 100 million users.
Millennials and Gen Z make up a large portion of people using mobile wallets to make purchases online. If your target audience is made up of the younger generation, you need to use Google Pay online to accept payments.
You won't also provide convenience to your customers by offering Google Pay payments, but also make them spend more. In a study, researchers found that 44% of the men using digital wallets spend more money than they normally do. Meanwhile, 26% of the women spent more money than usual when shopping using their digital wallets.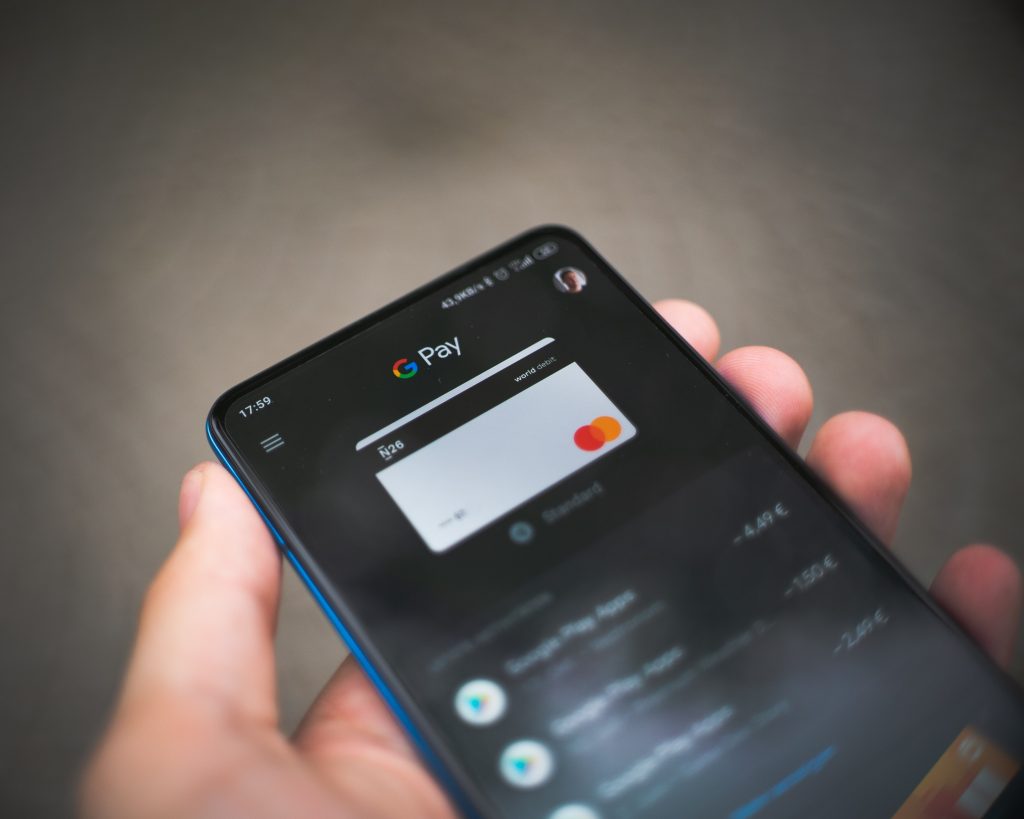 Benefits of Offering Google Pay Online Payment
While there are many other alternate payment methods, Google Pay stands out due to the following features:
Security
Consumers are extremely concerned about safety because they don't want their information getting into the wrong hands online. Google Pay keeps security and user safety at the forefront of its functionality.
All payment details are stored in secure and encrypted servers. Google also uses passkeys to protect sensitive information. Meanwhile, other methods, such as face identification and fingerprint readers, make the transactions even more secure on Android devices.
Users can store their card information into Google Pay. Thus, when they're shopping from a new retailer, they do not have to type in the information every time. Instead, they can trust Google to keep their information secure and readily available for online purchases.
Google also ensures high security for the customer by using virtual account numbers. When a customer makes a purchase, Google does not send their debit or credit card number for payment processing. Rather, a virtual account number represents this information, keeping the customers' actual financial information safe from online theft and hacking.
Speed
Part of the reason most consumers prefer digital wallets is their speed. Customers do not have to manually type in their information every time they make a purchase.
Their financial information is readily stored in Google Pay. With a simple click or tap, the information is entered into the required fields, saving customers a lot of time and hassle.
No Third-Party Sites Involved
Typically, some stores use a gateway that directs customers to a third-party site where they can enter their financial information secure. With Google Pay, customers stay in your store's checkout flow as there's no third-party site involved.
This saves the customers plenty of time. Google claims that this could increase your cart conversion and sales.
Partner with Oceanpayment for Google Pay Integration
To offer your customers Google Pay online shopping features, you'll have to integrate the payment method into your store. It can get pretty technical, especially if you're a novice at such things.
Why take on the hassle yourself when you can entrust Oceanpayment doing the job for you? Oceanpayment proudly became a certified Google Participating Processor on April 8th, 2020. Thus, the payment service provider is approved and authorized to provide you with Google Pay services.
Oceanpayment makes the payment solution available for your store across all fronts, including mobile browsers, in-app purchases, and websites.
The company takes pride in being a reliable and user-friendly cross-border payment service provider, currently supporting over 140 transaction currencies through multiple terminals, such as TVs, mobiles, apps, and desktops.
Oceanpayment offers its services to a wide range of industries, including education, digital content, software, games, and airlines.
If you have any specific needs for your particular business, the company also offers customized solutions to accommodate your customers in the best way possible.
Conclusion
There's no denying that online shopping is slowly becoming the most popular method of shopping for everything from groceries to luxury items.
Therefore, it's important for retailers to offer alternate payment solutions to their customers in order to reduce cart abandonment rates, increase brand affinity, and boost sales.
A partner like Oceanpayment can make it simpler for you to offer a safe, secure, convenient, and straightforward Google Pay online payment method to your consumers. Get in touch today to learn more about the company's customized and pre-built payment processing solutions.