The exponential growth of the digital payment industry has opened the gates for processing credit card payments online. With the world becoming a global village, many customers opt for cashless transactions, business-to-business payments, and various alternate modes of payments.
The ecommerce market has many online credit card payment gateway providers who simplify the process of making international payments for consumers worldwide.
However, many customers are concerned about the payment methods and security of payment gateway providers. Here is a detailed guide about a credit card payment processor and how it works.
What Is a Payment Gateway?
A payment gateway is a technology that processes payments via debit or credit cards. It is a consumer-facing interface that collects the funds from the customers and delivers them to the merchants.
A payment gateway is like a checkout portal in online stores. Customers provide their credit card information for online card processing. The information is then processed safely and quickly by the gateway.
Why Do I Need a Payment Gateway?
Payment gateways are essential for processing credit card payments online. For example, if you're looking to expand your business globally, you want to receive payments quickly. In addition, a payment gateway will ensure the safety of international payments.
Online credit card processing is provided by payment gateway providers that ensure that the payment transfers from the customers to the merchants. They also protect all the involved entities, ensuring that there is not a data breach.
How Does It Work?
When you set up an online store, your customers use their credit card or a debit card. First, a payment gateway collects the consumer's credit card details. Then the payment gateway provides your customer with a payment page when they checkout.
The payment page transfers the customers' information to the payment gateway, which transfers it to a payment processor. The credit card payment processor further processes this information to complete the transaction.
Once the information passes through the transaction cycle, it reaches the customer's issuing bank. Finally, the transaction's authorization reaches your payment gateway to inform you and your customer that the transaction was successful.
This way, a payment gateway provider and a credit card payment processor ensure that the payment reaches the merchant securely.
What Are the Types of Payment Gateway?
There are three types of payment gateways. They include hosted, self-hosted, and non-hosted payment gateways.
In a hosted payment gateway, customers are redirected to a payment gateway page. After making the payment, they are redirected to your website. Therefore, this payment gateway is also called a redirect payment gateway.
In a self-hosted payment gateway, the merchants have to collect the customer's information to send it to third-party payment gateways.
In non-hosted payment gateways, the merchant has to collect and process the funds on-site.
What Is the Cost to Integrate a Payment Gateway?
The cost of integrating a payment gateway depends on the provider. Therefore, every payment gateway has a different price and fee structure.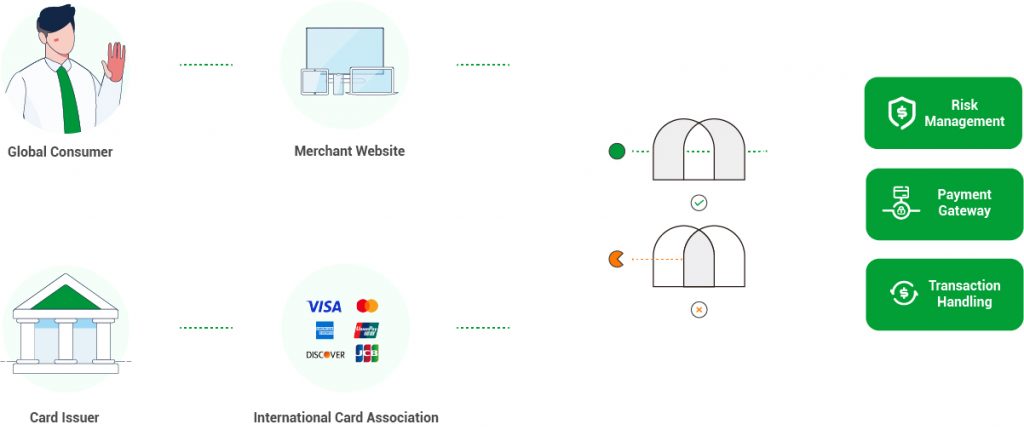 Best Payment Gateway: Oceanpayment
Many customers are skeptical about security when it comes to making international digital payments. However, with the expansion of businesses comes the challenge of processing credit card payments online.
Many payment gateways have established themselves as secure and safe means of transferring payments worldwide to combat the prevalence of data breaches and illegal payment transfers.
Oceanpayment is one such global payment service that encompasses various aspects of online credit card payment processing.
For example, it manages all the issues that come with ecommerce, such as limited payment methods, risk management, etc.
Oceanpayment provides businesses and merchants with an all-in-one solution for digital payments by offering more than 500 alternate payment methods. These multiple methods of processing credit card payments online simplify the process of digital funds transfer.
Here are various Oceanpayment offerings that make it the best payment gateway for both merchants and customers.
A Multitude of Solutions for Payment Processing
Oceanpayment supports TV, desktop, mobile, and various user interfaces to allow customers to make payments through a channel they find best. It is a comprehensive solution for all platforms, such as small and large-scale businesses alike.
If your business market is spread to other countries, you'll be selling products across the border. Your customers may have different payment methods.
Suppose a customer does not have a Mastercard or Visa, they will not make payment. As a result, your business will lose potential customers because you won't have appropriate payment options.
In this case, Oceanpayment proves beneficial as it offers many solutions for making and receiving cross-border payments. Fortunately, you do not have to consult another payment processing platform.
By using Oceanpayment, your business will offer more convenient ways of payment to international consumers. As a result, you will generate more revenue as maximum customers will be accommodated with various payment methods.
PCI Level 1 Gateway
Oceanpayment's Level 1 Gateway offers maximum uptime for customers. It also offers seamless global online credit card processing. In addition, it offers open-source shopping carts which allow you to access the services from any location or platform.
It is a reliable source of making and receiving online payments as it has served thousands of merchants by processing billions of dollars in global transactions.
In addition, this unified platform offers safe, convenient, and professional payment solutions to various businesses that wish to expand their market globally.
If you're looking for a unified payment processing service, Oceanpayment is just right for you. All you have to do is get in touch via a call or a contact form to find customized solutions for your business.
Final Words
Your customers have thousands of online stores for shopping, so if you do not provide them with convenient and simplified payment methods, your business is likely to lose potential consumers.
With the advancement of digital transactions and ecommerce, many global payment services offer solutions.
But what if you are skeptical about the security of e-payments? In that case, Oceanpayment will resolve your security concern as it offers end-to-end encrypted payments which do not result in data breaches or payment theft.