With the popularity of online card transactions and the constantly increasing fraud, global bank card fraud losses are accumulated to tens of billions of US dollars each year. Back in the days, in 2001 in order to improve the security of online transactions and protect users' online experience, EMVCo. launched online transaction payment verification protocol 3D Secure (referred to as "3DS", also known as 3DS 1.0).
What is 3D Secure?
3D Secure is 3-Domain Secure, which is a message transmission protocol of online transaction authentication among card organizations, card issuers and cardholders. The card issuer can verify the identity information of the cardholder and complete a risk assessment to determine the final authorization.
3DS 1.0 has a good ability in resisting fraud and fraudulent chargebacks, but in the checkout process, 3DS1.0 takes the user to a different window and asked them to type the four-digit code they just received on their phone, which may lead to a significant percentage of consumers dropping their purchase. In addition, the 3DS 1.0 verification URLs may be attacked by phishing sites. Most importantly, because 3DS 1.0 only supports PC browsers, it can't meet the widespread requirements of mobile transactions and thus affect the order conversion rate.
In order to adapt to the rapid growth of the mobile consumer market and optimize 3DS performance, EMVCo released the 3DS 2.0 protocol in 2017. International schemes such as Visa, MasterCard, JCB, American Express, and Discover have successively implemented 3DS 2.0 on a global scale. UnionPay has also been preparing for the UnionPay 3DS 2.0 standard. Especially, EEA will mandate PSD2 / SCA (Strong Customer Authentication) on September 14 , 2019. As one of the most effective methods to implement PSD2/SCA, 3DS 2.0 will be useful for the merchants whose market transactions are regulated under PSD2 / SCA to avoid affmethodsecting the performance of the transaction.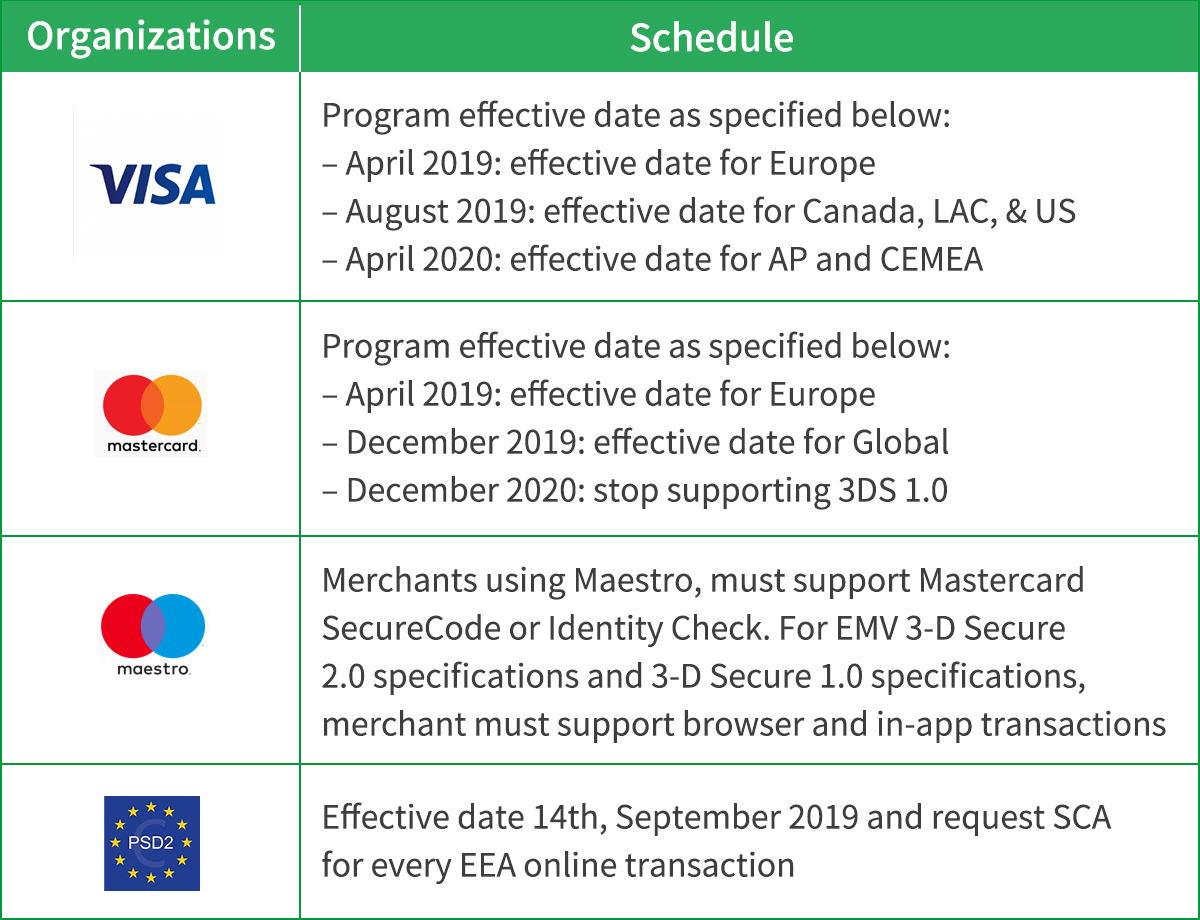 Compared with the 3DS 1.0 with a 17-year history, we can see the advantages and enhancements of the upgraded version of 3DS 2.0 as follows: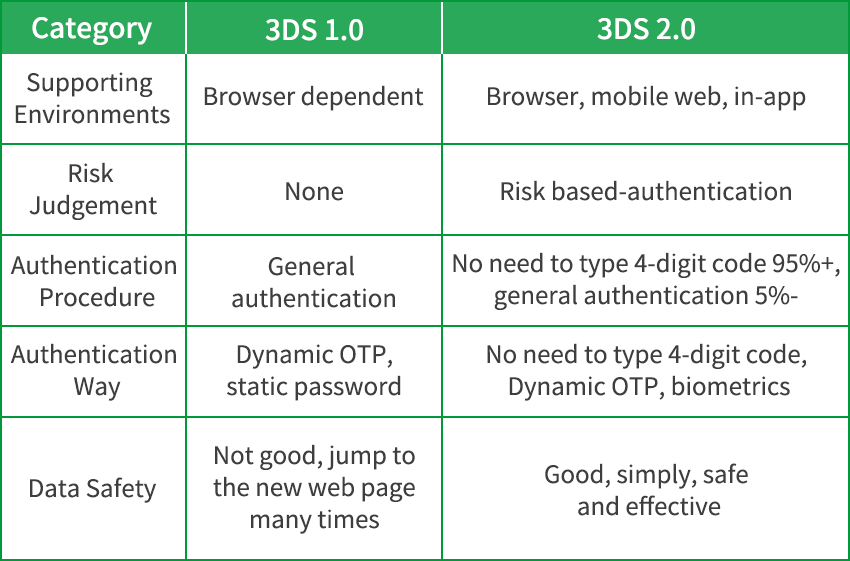 ▲ Supports mobile In-app to provide better user experience.
▲ Based on multiple data for transaction risk assessment, the issuing banks can make more accurate decisions on trading risk.
▲ Integrates authentication and transaction authorization to simplify the payment process. After 3DS 2.0 is fully implemented, around 95% of transaction verification no longer requires cardholders to input additional verification information, which greatly improves the payment success rate.
▲ Supports multiple authentication modes, such as password-free payment, general verification, biometric identification (such as device feature number, biometric feature, location data, etc.).
▲ Merchants can share more comprehensive and diverse transaction data with the issuing bank through 3DS 2.0.
Oceanpayment 3DS 2.0 Upgrade Solution
As a payment service provider, Oceanpayment has been well-prepared to help merchants with the 3DS 2.0 solution since early 2019 after repeatedly testing and optimizing. As a merchant, whether you need a 3DS 1.0 or 2.0 version, Oceanpayment is able to integrate it and automatically upgrade it by the latest version. This way you can benefit from the newest features and ensure that orders are not "abandoned".
How to upgrade to 3DS 2.0 in three steps:
▲ Contact your Oceanpayment consultant and our team will customize a 3DS 2.0 solution for you.
▲ Oceanpayment will assist your company to complete the whole upgrade procedure.
▲ Enjoy a new payment experience of 3DS 2.0 and expect a higher conversion rate.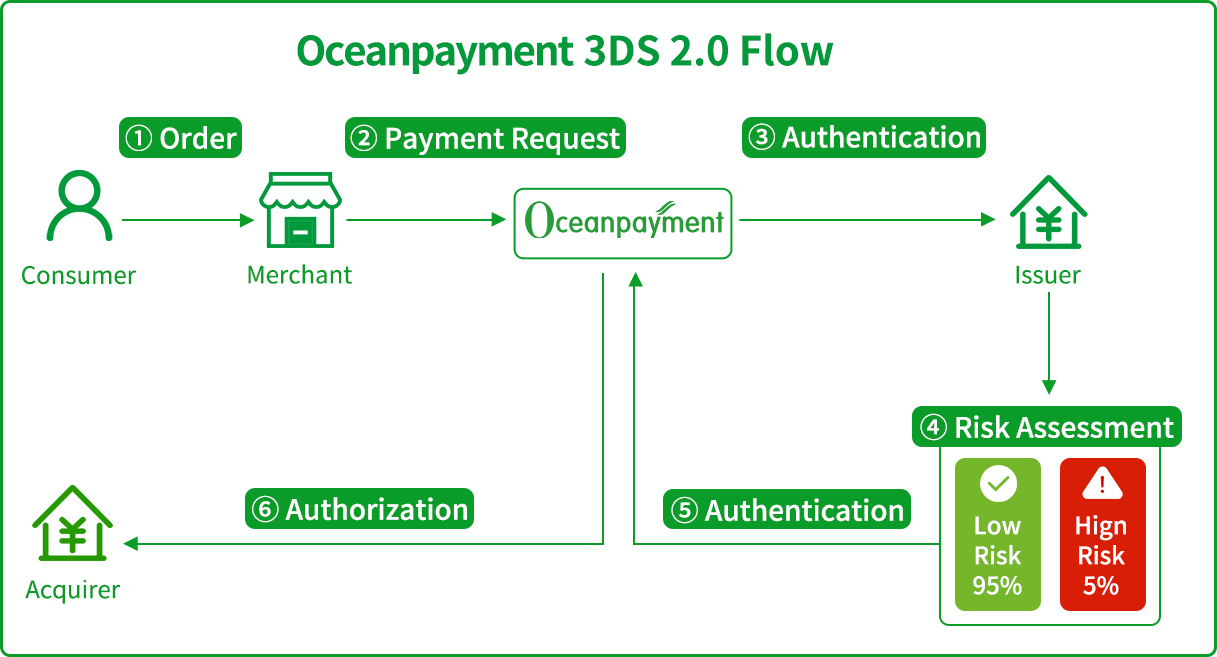 Should you have any questions about the 3DS 2.0 solution, please feel free to contact us mail or call.