Since the beginning of the year, many companies have either halted operations or arranged for their employees to work from home. And, due to the schools'shutdown, students have had to learn from home. With the majority of the population using their homes as the basecamp of their daily business, work and learning activities, the corresponding consumer needs have shifted online, and many of those that are home-bound have resorted to making their purchases via online shopping platforms or the online shopping sites set up by the individual brands. In addition to the ever-popular masks, hand sanitizers, thermometers, personal protective equipment, and other items necessary to protect against Covid19, home-based office equipment, and indoor exercise apparatus have also topped the list of items sought after by consumers. With global netizens forced to 'stay put at home' due to the shutdowns imposed by governments across the world in their effort to stave off the Covid19 virus, a new phenomenon of 'home-based economics' has evolved, a trend that appears to be here to stay, even after the pandemic situation has been resolved; generating a new growth channel for businesses across the globe.
"Home-based economics" refers to transactions resulting from activities conducted by employees or business operators that work from home and, at the same time, purchase goods and services from home. These communities include people that work in remote offices, eCommerce operators, social communities, information services, take-out, and delivery services, video entertainment, online gaming, and home-based learning, etc.
The forced shutdown of brick-and-mortar shopping malls and retail stores by the global pandemic has deeply impacted both overseas and domestic consumer spending, creating the new trend of "home-based economics". According to a March 2020 survey conducted by Nielsen, increased online purchasing activities were found in forty percent of the consumers in Singapore, and about seventy-five percent of these consumers have indicated that they would continue to transact online post-COVID. Also, about thirty percent of the consumers have gone online to purchase clothing or beauty products.
The most recent data analytics from Adobe Analytics (based on the transaction details of 80 of the top 100 online retailers in the US) indicate that, in March, due to the impact of the pandemic, the sales revenue for a wide range of products sold on eCommerce sites in the US had increased significantly. According to analyses conducted in March by retail intelligence company Stackline on eCommerce sales in the US, the top ten categories of goods with the highest increase in sales revenue as compared to March 2019, are as follows: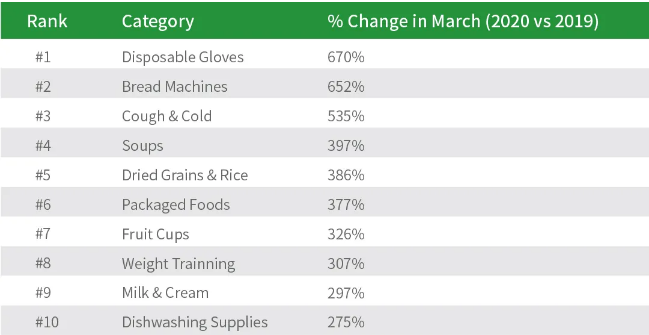 Source: Stackline
40% of the increase was in food products and groceries which appear to be popular with UK families. In fact, the data for March recorded the highest ever increase in sales for the UK food retailers. At second place, clothes and beauty products made up 29% of the revenue increase while medicines or health products earned third place, making up 27% of the increase. About 40% of consumers in the 18 – 34 age group bought in-trend or beauty products online.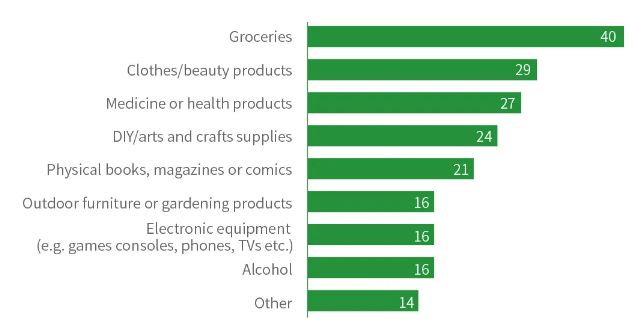 Source: YouGov
As of March 2020, consumer behavior in Singapore, affected by the pandemic, was transformed. Payment for online purchases of groceries increased by 14% while food delivery services grew by 10% while payments for non-grocery online purchases grew by 6%.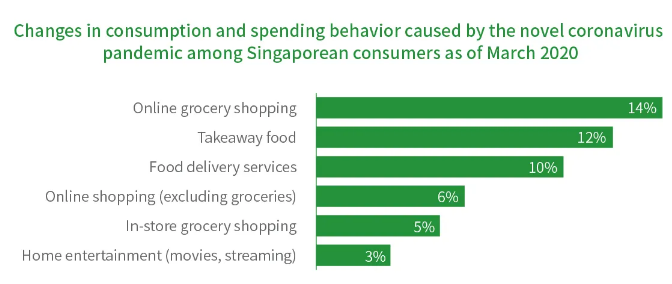 Source: Statista
The pandemic has not only changed the global marketplace and consumer behavior but also accelerated the digitization of applications, cultivating a trend of online consumerism. In response, businesses across all industries are undergoing a digital transformation while the retail industry redefines their business model to harness the volumes generated during the pandemic for sustainable growth.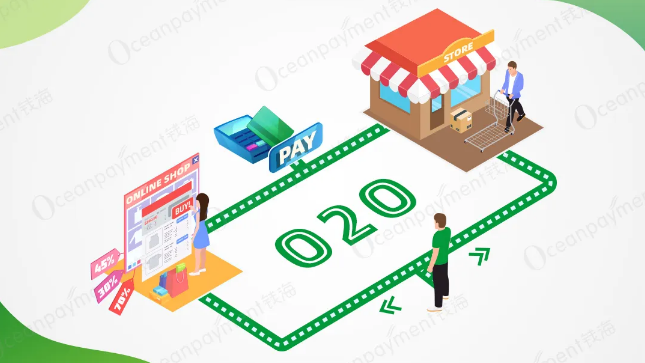 The consumer marketplace of the future will continue to evolve with diverse and innovative online and contactless solutions. This trend will transform and challenge the traditional methods of data and information transmission, funds transfer, and logistics, driving change in an ever-expanding range of markets and industries.
Oceanpayment 's core competencies in the local operationalization of a global product harness this trend of the evolving online and contactless market to offer innovative solutions that enhance the customer experience and merchant value. We enable our clients to quickly adopt and adapt to the latest "Offline to Online" trend and accept payment across all sales channels and devices.