Payment collection is the ultimate goal of making sales; hence it is the most critical aspect of every business.
Smooth and user-friendly payment collection for online businesses is crucial for improved customer experience. If you're familiar with e-commerce business softwares, you must have come across Shopify.
Shopify is an all-in-one software for various online businesses. This is a cloud-based platform that helps small businesses grow exponentially.
It offers extremely low start-up costs and easy-to-understand interfaces that let merchants promote, ship, and sell business products. Thus, this software allows people to run their businesses seamlessly. But what is a Shopify payment gateway, and how does it work?
Read below to learn about Shopify's alternative payment methods and more.
How Does Shopify Work?
Shopify, an ecommerce online service, sets up online stores for a variety of businesses. Merchants can use this platform to sell their products because this single platform manages everything from payments, marketing, checkouts, and shipping procedures.
Thus, it is an excellent solution for all types of online businesses because it serves as a single interface that allows you to organize your store in every aspect.
Payment Method for Shopify Payments
Business owners can set up a payment method in Shopify to accommodate their customers with a smooth checkout process.
But before you learn about Shopify's payment gateways, let us learn about the types of payment gateway.
What Are the Types of Payment Gateway?
There are three types of payment gateways, hosted, self-hosted, and non-hosted payment gateways. A hosted payment gateway redirects your customers to a payment gateway page.
Once they make their payment, the payment gateway page redirects them to your website. This is why a hosted payment gateway is also called a redirect payment gateway.
A self-hosted payment gateway collects consumer information. Then, it sends it to third-party payment gateways, while the non-hosted payment gateways let merchants collect and process funds on their site.
Shopify Payment Gateway
Payment gateways let customers purchase a Shopify storefront. They can add the products to the Shopify cart and click on a 'buy' button. This will redirect them to a payment page.
Merchants can choose a payment gateway for this step. Shopify has various payment methods with different rules and regulations. These come at different prices. Merchants should consider the following before finalizing a payment processor.
Payment Gateways accept various cards, so you should ensure that your payment gateway can accept alternate payment options.
Most of the payment gateways only accept Mastercard or Visa.
Some payment gateways also accept PayPal and American Express
You do not have to pay a transaction fee for using Shopify Payments.
External payment methods can cost you 0.5 to 2% for Shopify, Advanced Shopify, and Basic Shopify plans.
Shopify Alternative Payment Methods
The best feature of Shopify is that it integrates with various other payment providers. But what are the best payment gateways for Shopify if you do not want to use Shopify payments?
Some of the most suitable payment gateways for Shopify are PayPal, Amazon Pay, Oceanpayment, Google Pay, etc.
When you set up the payment methods for Shopify, you can select any of these payment platforms as a plug-in. Once a payment provider integrates with Shopify, it will handle the payment processing.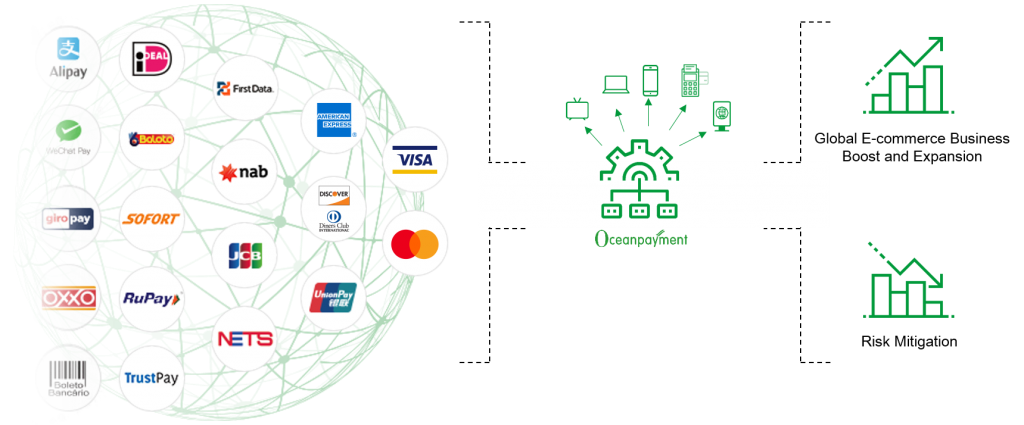 Oceanpayment | Best Payment Gateway for Shopify Payments
Once you set up an e-store, your primary concern is payment collection. Since international customers have access to your Shopify store, you must receive many cross-border payments. However, some customers are skeptical about making international or digital payments.
Therefore the expansion of e-commerce businesses has created a challenge for payment providers to process online payments seamlessly. Many payment gateways have established themselves as safe means of transferring payments worldwide.
However, the prevalence of illegal payment transfers and data breaches still plagues the minds of many customers. This is why you must offer your customers the safest payment processing services.
Oceanpayment is one such global payment service that encompasses various aspects of online credit card payment processing and also provides maximum transparency to users.
This payment provider also manages all the issues that come with ecommerce, such as risk management, limited payment methods, etc.
Oceanpayment provides e-commerce businesses with payment solutions for digital payments by offering more than 500 alternate payment methods.
These multiple payment processing methods simplify the process of digital funds transfer in e-stores. Here are some Oceanpayment offerings that make it one of the best payment gateways for Shopify.
All-In-One Solution for Payment Processing
Oceanpayment supports various user interfaces such as mobile, desktop, and Tv to let customers make payments via multiple channels.
This comprehensive payment solution is suitable for large and small-scale businesses because it helps businesses manage their payments and helps small businesses expand their market by offering alternate payment methods to every customer.
When merchants use Shopify, they have consumers in international markets. Unfortunately, many payment processors do not accept the different payment methods that these consumers may have.
For example, if a customer does not have a Mastercard or Visa, they will not make checkout payments. This will have a negative effect on your conversion rate.
As a result, your business will lose a potential customer because you won't have appropriate payment options that suit their needs.
But if you integrate Shopify with Oceanpayment, it will prove beneficial as it offers many solutions for receiving and making cross-border payments.So when you use Oceanpayment, your business will offer more convenient ways of payment to international consumers. This will generate more revenue as you will accommodate the maximum number of customers with various payment methods at the checkout.
Final Words
A smoother checkout process brings your customers back to your e-store. This is why you must integrate your online store with one of the best payment gateways for Shopify.
Therefore, before finalizing a payment gateway for your e-store, make sure that it offers your customers convenience and ease of use.
Oceanpayment is just right for you if you wish to have a unified payment processing platform for Shopify. All you have to do is consult them via a call or a contact form.