Consumers in the United Kingdom spent on average 74.09 euros per online FMCG purchase in 2016, which corresponds with a decrease of over 2 percent compared to the situation a year before. But still, the online ticket was 4.5 times higher than the offline one. Globally, only in Thailand consumers spend much more online on fast-moving consumer goods than they do offline.
This is one of the results of the quarterly FMCG E-commerce Index from Kantar Worldpanel. This report provides a snapshot update on the global online FMCG market. Last year, global FMCG online sales increased by 26 percent (versus +15% growth in 2015), with ecommerce now contributing to 35 percent of the global FMCG growth.
France is still behind
As said, in the UK, consumers spend 4.5 times more on fast-moving consumer goods online than they do in-store. In 2014, the online cart in the UK was 4.8 times bigger and back then, expectations were France would soon take over the number one position in Europe, mostly because of the impressive growth of Click & Collect options in France. But when we take a look at the latest data, it seems France didn't manage to beat the UK: consumers in France only spend 2 times more on FMCG online than they do offline.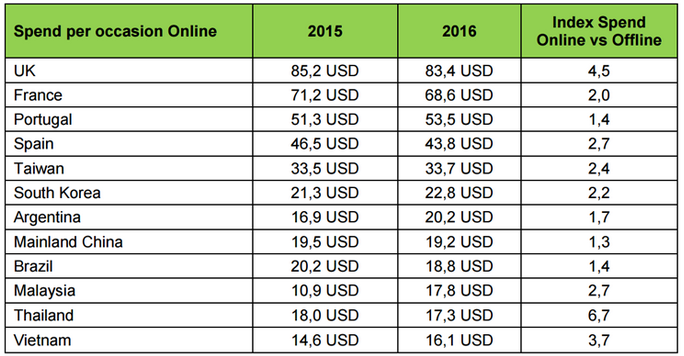 FMCG online & offline
The report also shows that in the UK, online FMCG purchases account for 7.3 percent of total FMCG purchases. In other European countries, this share is much lower: 5.5 percent in France, 1.7 percent in Spain and 1 percent in Portugal.
27.5% of UK households bought FMCG online
Last year, 27.5 percent of households in the United Kingdom bought FMCG products online at least once. Within this metric, the UK is the best-performing European country again, as in France the share is 26.2 percent, followed by Spain (24.7 percent) and Portugal (just 6.5 percent).
"Ecommerce accounts for 4.6 percent of the global FMCG market but represents 35 percent of the growth, that's eight times its weight in the market", Eric Batty, Global E-commerce Business Development Director, explains. "Ecommerce may only reach a small proportion of grocery shoppers, but it's no surprise that manufacturers are investing considerably in this channel."
Via:https://ecommercenews.eu/uk-shoppers-spend-online-4-5-times-fmcg-offline/#more-9291