Sharing the idea of taking a ride on the national Belt and Road Initiatives and shaping Chinese service sector together, China Southern chooses Oceanpayment as a reliable partner to open up a vast overseas market. The overall solutions and services provided by Oceanpayment include comprehensive cross-border payment methods, precise marketing, intelligent data analysis, etc. Therefore, Oceanpayment has become the only Chinese payment service provider that is capable of serving a large airline company.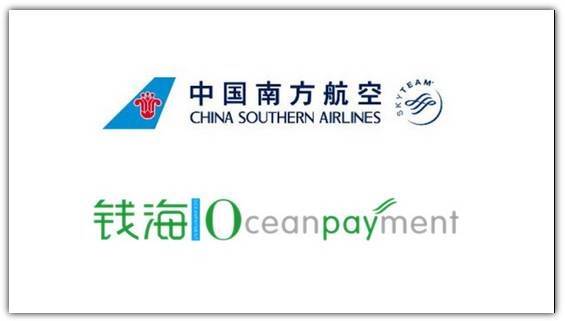 Supporting more than 140 trading currencies and 14 settlement currencies, Oceanpayment will offer a strong support to China Southern Airlines in the global business competition and provide the best user experience for its customers.
Related principals of China Southern Airlines said, responding to the rapid development of globalization and the Belt and Road Initiatives, the Civil Aviation Administration held a special meeting at the end of 2016, and called for domestic airlines not only to focus on the Chinese market, but also open more overseas routes to serve overseas passengers and, therefore, speed up the internationalization of China's brands and services. Oceanpayment as the leading domestic cross-border payment platform with robust payment technology and rapid response services will have the power to assist China Southern to win the initiative in the overseas market expansion. We look forward to shining in subsequent cooperation.
VP of Oceanpayment, Mr. Kenny Li, said, it is Oceanpayment's great honor to be in cooperation with the largest airline in Asia both by the number of passengers carried and fleets. As the only domestic cross-border payments company that can serve in multi-industries, Oceanpayment will continually improve profession ability and service level in terms of product scheme, risk management, marketing and localization services, helping more excellent China brands to develop rapidly abroad.
About China Southern Air Holding Company
China Southern Air Holding Company (CSAH) was established on October 11, 2002. Publicly listed on Shanghai, Hong Kong and New York Stock Exchanges, China Southern (stock code: 600029) now has 15 branches, 4 bases, 24 domestic offices and 65 international offices.
In 2015, it has carried more than 110 million passengers, ranking the first in Asia and the fourth in the world, as well as being the top of all Chinese Airlines for 37 consecutive years.
About Oceanpayment
Oceanpayment was founded in Shenzhen Qianhai Free Trade Zone in 2014. It is operated by a professional and experienced team that focuses on Internet payment. Offering over 500 payment products across more than 200 countries, Oceanpayment strives to offer Safe, Swift, Specialized and Simple payment solutions to global B2B and B2C merchants.