To promote a healthy development of a cross-border B2C/B2B business model in China, Oceanpayment and Finance and Statistics School of Hunan University initiate and establish a research base for risk management of cross-border payments. The institute will focus on studying theory and applying methods of big data in financial risk management in e-commerce.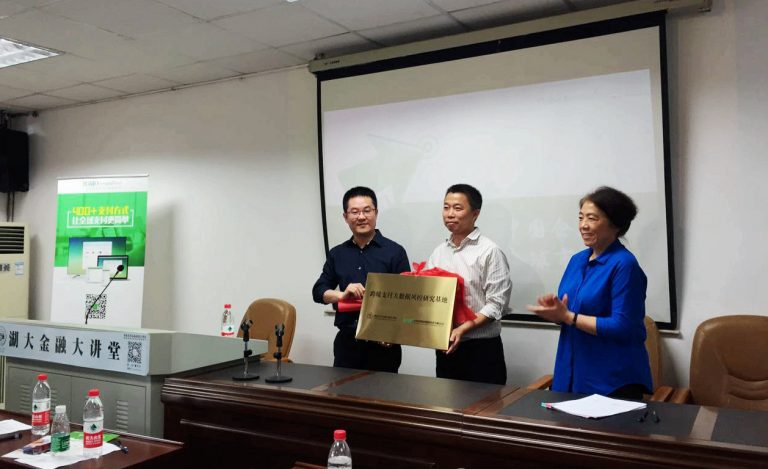 Qiao Haishu, Executive President of Finance and Statistics School of Hunan University, states that, in the context of the rapid rise of cross-border Internet finance, the problem of how to use the advanced concept to build a risk management system is gaining more and more attention. As the global Internet and business model keep changing innovatively, the research of finance risk management can guide practical application of international trade in the future. The cooperation could also help promote the transformation of China's industries.
In response, Mr. Ji Fengyi, Executive Assistant of Oceanpayment, says that, combined with Hunan University research resources and Oceanpayment's experience in dealing with finance security issues, both sides will be able to effectively integrate resources on studying several important subjects such as how to monitor the Internet financial transaction risk and how to avoid issues caused by the e-commerce trade risk.
In the speech to hundreds of financial professionals and international trade professional graduate students in Hunan University, the CEO of Oceanpayment, James Liu, helps the students to understand the cross-border business models of e-commerce and financial technology companies and suggests that students should learn some financial technology in security applications across different industries.
About Hunan University
Hunan University, an extension of one of the four famous Academies of the Song Dynasty, dates back to the period of the founding of Yuelu Academy in 976 AD. It enjoys the title of an "Ancient Millenarian Academy, Famous Centennial University". As one of the key and most comprehensive universities affiliated with the Ministry of Education, it has been included in the state's "Project 211" and "Project 985" for priority investment and construction.