As an easy to use and no need to download program, Alipay Mini-Program provides a more convenient way to use for a large number of users. Today's AlipayApp is already one of the super apps in the mobile internet ecosystem in China. Alipay Mini Program, a lightweight solution that allow more external developers to serve more customers through Alipay's App, and at the same time allow the Alipay's Platform to expand more.
What is Alipay Mini-Program?
As early as 2017, when the Alipay Mini Program was just a bunch of codes, Alipay clearly talked about it positioning: "Use Internet technology and products to help merchants better serve users."
According to the statistic in 2021, the Alipay platform has cumulatively launched more than 3 million mini programs, and the number of monthly active users has exceeded 800 million. Unlike WeChat mini-programs where games and live broadcasts are concentrated, about 70% of Alipay's million-level mini-programs are concentrated in offline business life services, which is the closest place to money.
Alipay and Alipay Mini-Program
In addition to the payment and life service needs of C-end users, Alipay has accumulated tens of millions of B-end merchants over the years, hoping to better serve these customers. The perfect combination of mini programs and large platforms undoubtedly greatly meets the core needs of businesses for traffic acquisition, precision marketing, and improved user retention.
The Alipay mini-program provides official traffic rewards including opportunities for Alipay's centralized channels to reach users in the operational gameplay, and support for self-operating tools that support the opening of the portal for linking users on the Alipay APP.
Alipay encourages eco-merchants to continue to operate mini-programs within the terminal, and has introduced a long-term traffic reward policy. Alipay homepage, member channels, Huipay, Huabei channel, credit channel, community life and more channels are gradually opening up.
Open the portal of linking users on the Alipay App, which makes it easier for partners to conduct self-operation in accordance with their own operational requirements. Payment success page, life number, friend TAB, mini program collection, search bar, billing page, QR code scan Alipay's internal portals and tools, such as, card packages, etc., which help merchants create a closed-loop operation for new retention and promotion.
How does Alipay Mini-Program work?
What Alibaba is doing is: fully embracing mini-programs, providing comprehensive technical, business, and ecological support for small programs, which can help our companies go further in the future cloud ecosystem.
Mini Program Cloud is a one-stop cloud service for Mini Program scenarios, helping developers to achieve a multi-terminal business strategy with one cloud, providing two modes of server and serverless. The cross-terminal development tool chain provides developers with the ability to develop small programs across the entire network at one time, and realize unified resource management, unified data operation, and unified business design in a cloud.
The multi-terminal release of the mini program will share with the merchants the opportunities of Alibaba Group to reach users from multiple terminals. The APPs of Alibaba Group, such as mobile Taobao, AutoNavi, and UC browser, are gradually opening up to more than 100 million users. Developers can use the same set of codes to publish to all ends of the Alibaba open ecosystem, reducing development costs. The foundation for one-time development, multi-end launch, and full enjoyment of Ali economy dividends is taking shape. Through the Ali applet matrix, merchants can also create brand effects, increase user stickiness, and obtain greater commercial value.
At the same time, based on Alipay's open platform strategy, small programs can aggregate the development capabilities of a large number of third-party companies behind developers to the platform, thereby strengthening Ali's ecosystem, and ultimately becoming an important tool and competitive means for building diversified profit channels.
Alipay Mini Program Payment
In the mini-program developed by the merchant, the user can also call the Alipay cashier to make to a payment. The payment process and experience of Mini-Program Payment and App Payment are basically the same. Mini Program Payment also supports the verification of Koubei coupons and Koubei merchant discount. Merchants who have signed up to pay via Mini Program or open a store in Koubei are advised to access the Mini Program to pay.
Mini Program Payment cannot be paid by scan code, bar code, sound wave payment etc. with the Mini Program, but can only call the cashier to make the payment. Currently, Mini Program Payment does not support password free payment.
Alipay Mini-Program Payment process
1. The user selects the product in the mini program to place an order and confirms the purchase, enters the payment link, and the user clicks to confirm the payment;
2. After entering the Alipay page, the applet arouses Alipay payment, and the payment interface appears;
3. The user confirms the payee and amount, clicks to pay now and then makes the payment;
4. After entering the correct payment password, the payment success page will be displayed;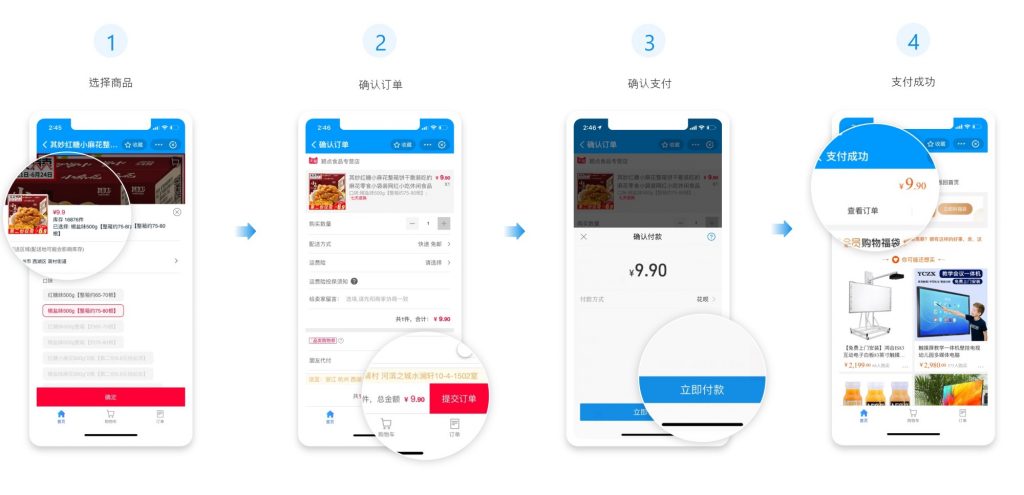 5. Click the Finish button in the upper right corner of the payment success page to jump to the custom page. Developers can personalize the order processing results according to the payment results, as shown in the figure below. (It supports to jump to the life account page, but only allows to jump to the life account page associated with the applet. For more information about the jump method, please refer to the redirect link of the life account client.)