Nowadays, WeChat has become a powerful application in China. As Tencent gradually opens its platform to advertisers, WeChat advertising is becoming a powerful tool for companies hoping to expand their online business. This makes WeChat the most effective and influential Chinese social media for companies to advertise.
WeChat official account registrations have exceeded 20 million. If you don't want your business to lag behind the trend, please read on and learn how to use WeChat advertising to maximize your business impact!
Unique advantages of WeChat marketing
Let's first look at 4 reasons why WeChat is "so special" to marketers:
The amazing purchasing power of WeChat users
The user penetration rate of WeChat in first-tier cities reached 93%. This number is very strong because most WeChat users are between the ages of 15 and 40, making them the most powerful group in China. WeChat alone drove 209.7 billion RMB in information consumption, accounting for 4.7% of China's total information consumption. At the same time, it also stimulated traditional consumption of 333.9 billion RMB. Key figures show the purchasing power behind WeChat.

Ability to attract suitable target consumer
The massive amount of data collected and stored by Tencent enables WeChat to not only classify users into demographic information, but also divide them into multiple sub-categories based on interests and behaviors. This enables companies to filter out the most valuable individuals they want to contact from more than 1 billion users, and create WeChat ads specifically for this unique group.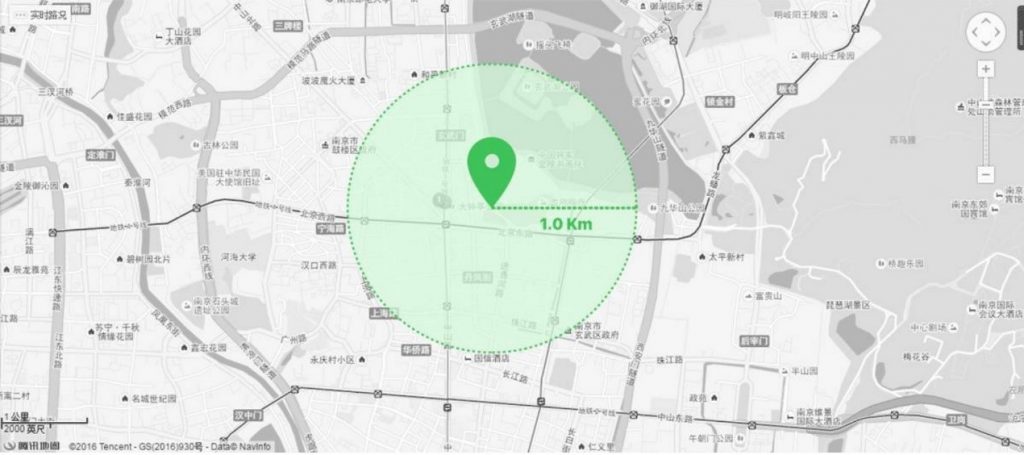 Tencent uses LBS technology to accurately record the user's habitual residence and current location to a specific business area. At present, the platform has identified more than 4,400 commercial areas and more than 58 million POIs (points of interest) in its system for marketers to locate. Equipped with this feature, companies can locate users based on shopping malls that they visited frequently in the last month, and can find out those users who are actually near the store (in an area with a radius of 500 to 5000 meters) in order to publish advertisements or discount offers. Gift coupons to them.
Store owners can use WeChat to send marketing messages to people near them. WeChat can also identify users traveling abroad based on the user's login location, so that companies can target specific groups of people through advertisements. In view of the accuracy of this information, LBS-based WeChat advertising has become the most popular form of advertising on the platform.
Form a closed loop for your business goals
As mentioned earlier, WeChat is the ultimate platform in China, and its functions involve all aspects of the daily lives of the Chinese people. The advantage of this is that such a comprehensive platform can provide a natural closed-loop environment for the ultimate goal of each enterprise.
WeChat advertising is also very effective for physical stores! LBS technology allows traditional store owners to send store coupons to nearby target customers to attract real traffic, which is priceless for physical stores!
Bring the experience of sticky participation
When you use social media, you don't want to be bothered by the repeated appearance of a large number of advertisements. Companies that are too self-promotional may be strongly opposed by consumers. Unlike other social media, WeChat knows how to control its advertisers in an intelligent way, making WeChat users much more tolerant of advertisements.
Like any other ordinary WeChat Moments, WeChat ads will not be placed at the top of the Moments, nor will they be repeatedly displayed when the user scrolls. Tencent realizes that users don't like seeing the same advertisement over and over again, which brings a better user experience.
The user experience is maintained very well, and WeChat even has a "not interested" button on every ad post. The huge trade-off behind these restrictions is the extremely high level of engagement in WeChat advertising.
Three main types of WeChat advertising
1. Moments ads
Moments Information Stream was launched in January 2015. It is the most classic and well-known WeChat advertising format. The ad format of WeChat Moments ads is the same version that all other users post to Moments, and it also has the comment and "like" functions enabled.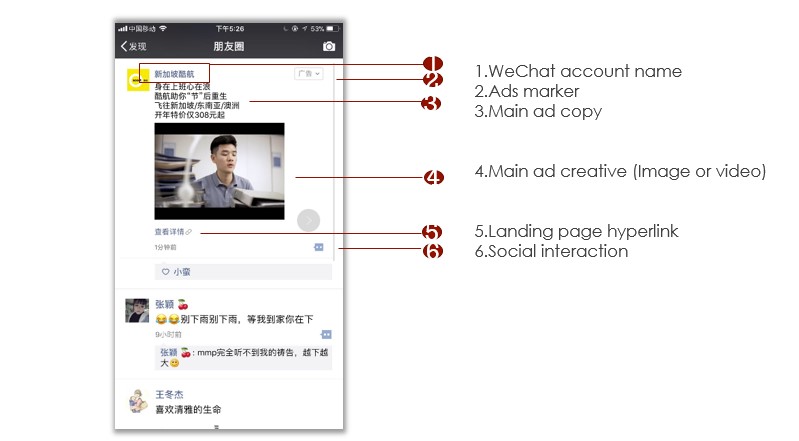 These advertisements are "disguised" as WeChat Moments in a particular location-they are usually displayed as the fifth post with a small "advertisement" logo in the upper right corner. Once the user clicks on the WeChat Moments ad, they will be directed to the login page designated by the advertiser. These landing pages can be used for a variety of purposes.
2. WeChat official account advertisement
In addition to getting the latest information on the lives of friends in WeChat Moments, another very important source of information for each WeChat user comes from articles published by the public account they follow. The biggest advantage of choosing WeChat public account advertising is that there is no need to struggle to find the target group. Once the system has determined which official account is most relevant to the corporate WeChat advertising post that will be implemented, your advertising message will only be accurately displayed to those who are really relevant and interested.
3. WeChat Mini Program Ads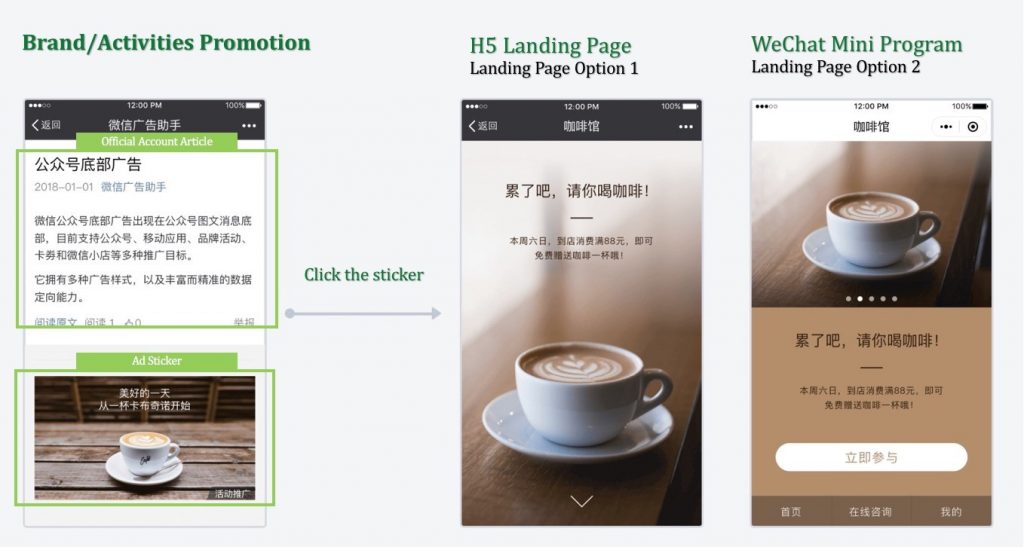 The layout of the WeChat Mini Program advertisement is basically the same as the advertisement stickers we see in the WeChat official account advertisement. Similarly, there are multiple formats and commercial purposes that can be selected under this category.
In order to better incorporate banner advertisements into mini programs, the display position of these advertising labels is determined by the owner of the mini program, and advertisers cannot choose which mini program their advertisements will be placed in. The WeChat system will help matchmaking based on user profiles and target audiences set by advertisers.
WeChat advertising charging method
1. Schedule an advertisement
With the help of "scheduled advertising", your WeChat advertising works will be launched on a specific date, and the number of impressions will be guaranteed, and will be charged at a fixed CPM (cost per thousand views). However, when using scheduled ads, you cannot choose the exact time of day to run the ads.
2. Bidding ads: bid by impression and bid by click
Compared with scheduled ads, bidding ads are more flexible and result-oriented. Determine the target audience and launch date to maximize the competitiveness of your WeChat advertising and peers. The downside is that once the final price is determined, there is no guarantee of performance or clicks, which may be the most similar to the advertising method you are most familiar with.
3. Charge by article
Only applicable to KOL cooperation under the WeChat official account advertisement. Similar to the content creation process itself, the cost is also set by the KOL your business chooses to collaborate with. Each article is charged, and the approximate price range is 50-100 per day.
WeChat advertising is definitely not affordable for every company, especially WeChat Moments advertising. Although it is the most influential advertising format using the most advanced LBS technology, the WeChat advertising company spends at least RMB 50,000 for each advertising campaign. Such a budget can only last from 12 hours to 5 days.
The advertisement sticker attached to the WeChat official account or mini program is a more affordable option, and the advertisement can be saved for a longer period of time. However, the success of your WeChat advertising depends largely on the popularity of the official account or the mini-program itself, and rapidly changing user behavior will become an unpredictable or controllable factor.
Conclusion
As a social software, WeChat has become an indispensable application for Chinese people. WeChat has the undisputed power to help companies establish a reputation in the Chinese market. With the help of Moments, your brand information may be seen by 1 billion MAUs up to 10 times a day. If you place it on any of the 1 million mini programs, the ad may leave a memorable imprint on its highly engaged users. Among the articles created by more than 20 million WeChat public accounts, it may also appear in some of the most popular and relevant articles. No matter which channel or format you choose, the marketing effect is unlimited.