Shenzhen Airlines has chosen Oceanpayment as an online payment partner to comprehensively enhance their passengers' payment experience, so as to further develop overseas markets.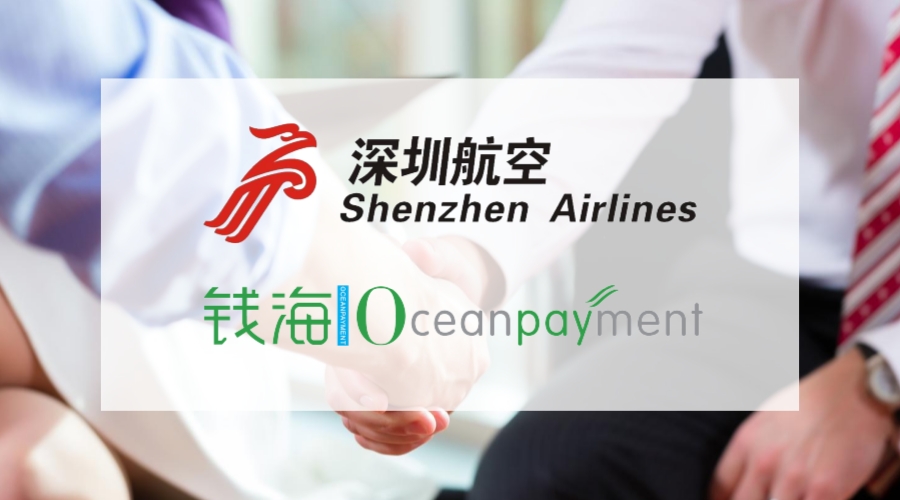 IATA predicts that the global aviation passenger traffic growth rate will be 5% in 2017, and the total passengers will reach 4 billion. In 2017, the revenue of global airlines will increase by 5%, reaching $736 billion. The net profit should be around $30 billion with net profit rate of 4.1%. It seems that global airlines industry has come to its best development opportunity in 20 years.
Along with the development of global air-travel market and the implementation of "The Belt and Road Initiative", Chinese airlines will enter into a period of rapid development. The passenger traffic turnover in China is predicted to maintain grow at rate of over 12%, which is double of global average level.
As a member of the Star Alliance, Shenzhen Airlines sought a partner with a full range of cross-border payment services to help solve complex problems of international payment when entering into global competition. Oceanpayment, as a domestic leading payment service provider, becomes a reliable choice.
Oceanpayment is able to help Shenzhen Airlines enhance the ability to expand global business in many ways.
Global Payment Methods
Including credit cards, Oceanpayment offers over 500 payment methods, covering over 200 countries and regions. More payment options for passengers, but less costs for working with local payment processors across different markets.
Multi Currencies Support
Oceanpayment is able to process payments across more than 140 transactions currencies and 10 settlement currencies, which can help Shenzhen Airlines easier to convert currencies across multiple countries while reducing the loss of exchange.
Intelligent Fraud Management
Oceanpayment has an excellent risk management system which is able to help Shenzhen Airlines detect suspicious transactions through the global market data of user behaviors.
Booking Process Optimization
Oceanpayment will help optimize each process of booking tickets on the website to enhance the purchasing experience of Shenzhen Airlines passengers. For example, shorten the payment time through technical adjustment.
In addition, Oceanpayment provides data analysis and cross marketing service for Shenzhen Airlines to achieve precision marketing therefore improve the conversion rate.
The head of Shenzhen Airlines said: "Offering the most convenient and comfortable travel experience is our service purpose. Online payment experience is one of the most important parts. We are convinced by Oceanpayment's international payment concept and professional service ability. We are looking forward to raising Shenzhen Airlines global business to a brand new level in the subsequent cooperation.
Mr Li Dapeng, the VP of Oceanpayment, said: "Only a few Chinese companies that can provide professional and customized payment solutions for the airline business, and Oceanpayment is one of the best. We believe the partnership will enable Shenzhen Airlines to extend their flying networks and gain more international reputation for China's civil aviation."
About Shenzhen Airlines Co., Ltd
Shenzhen Airlines Co., Ltd was founded in November 1992 and started operations on September 17 of the following year. Shenzhen Airlines is one of the youngest fleets in the world, flying on more than 220 domestic and international routes. As one of the outstanding civil aviation enterprises in China, Shenzhen Airlines has won the "Asian brands 500", "China's 500 Most Valuable Brands", "National Aviation advanced collectives" and many other honorary titles.