The most colourful street party in the world is on the horizon. All over the Netherlands, over a million locals and tourists will be joining the all-day citywide celebration of the King's Day. Here is a brief breakdown of the history of this festival, what to expect and how to prepare for it.
Festival History
This annual festival has been celebrated since 1885 on the Dutch monarch's birthday. For over a century it was actually known as the Dutch Queen Festival. However, in 2013, since King Willem-Alexander took the throne as the first male monarch of the Netherlands in 123 years, the festival changed its date to the king's birthday and its name representatively, to the "King's Day Festival".
It has also gained its nickname "orange madness". This is due to the fact that the national colour of the Netherlands is orange and during the festival people wear orange clothing, orange accessories, orange hair, and everyone can enjoy popular orange-coloured drinks and foods.
What to Expect
While the festival takes place all over the nation, Amsterdam is definitely the top destination for tourists during this time. In recent years, the city's 750,000 residents are typically joined by up to 1 million visitors, more than doubling the population of the Dutch capital during this time.
Another interesting surprise for tourists will be the flea market tradition. On the King's day, the ban for free trade is lifted and many locals head to the city centre, put up booths and sell their old goods and small trinkets. Small children will also sell lemonade, toys and homemade cakes.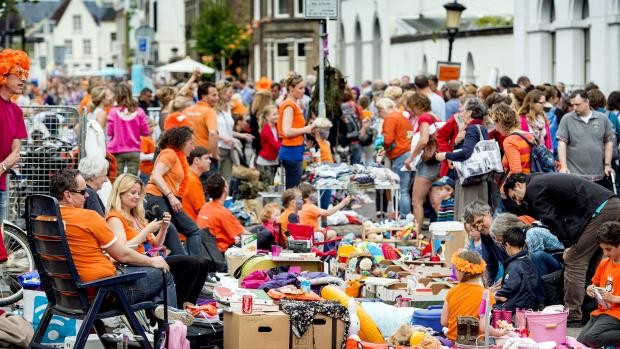 Photo credit: Bimbimbikes
How to Prepare
Even though the average seller at this flea market makes approximately 90 Euros during the King's Day festival, this tradition is typically for entertainment rather than making a large profit. Many items are usually sold for mere cents and if there is one thing tourists must take with them it's definitely tons of small change.
During this time of the year, tourism is booming and with it, so are local vendors, hotels, restaurants and cafes. All vendors should consider utilizing various payment methods to service the celebrating crowd from all over the world. Alternative payment solutions guarantee that tourists will be able to pay in the way that they feel comfortable, ensuring an advantage over competitors and increased sales in the long-run. In addition, merchants that are offering payment solutions, such as WeChat Pay, Alipay, Union Pay International, Visa, MasterCard and others, will be in high demand during the festival across Amsterdam and other major Dutch cities.
Are you preparing for the King's Day Festival as a merchant? Be sure to check out our solutions to find out more about various local and global payment methods and ultimately boost the sales of your business.