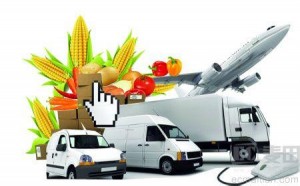 Online Grocery Delivery in China 3
With the constant and growing demand of grocery delivery, local giants such as S.F. Express and SFbest are jumping into the fray as gold diggers betting millions on this burgeoning market. At present, the overall lack of industry standards has begun to show up.
"Anyone can come into this business without sweat, and it's so frustrating when seeing delivery truck carrying frozen fish without temperature protection. We have seen drivers even turn off the refrigerator to save cost, and not just once!" said a representive of Jingdong, a popular Chinese E-commerce company, "Slow logistics and distribution have baffled the development of the electronic business."
According to the survey commissioned by Shanghai cold storage association, railroad has accounted for 2% of the total volume, while road takes 10%, not a big share. There are 40,000 special trunks to deliver demanding foods, which are far from enough. available freezers are mostly set up in 70s or 80s, and store is the only thing you can do.
"Different produces should go separate climate zones to specific temperatures and humidity levels so that they ripen more slowly and stay fresh longer. It isn't just any warehouse, the whole market is in a chaotic state of the operation of disorder." an inside man told reporters.
Maybe local authorities should start a lead for the time being, so that companies can choose some acknowledged guidelines and standards as reference since they are fully aware of this business.