Background: In September 2020, General Secretary Xi Jinping put forward the two-phased goal which stipulates "China's carbon dioxide emissions to peak by 2030 and carbon neutrality by 2060". To realize this goal, the central government and relevant departments have focused on the development and execution of the relevant policies and related programs, reflecting China's commitment, as a leading nation, to climate change and a sustainable future for the global community. . At the same time, it is also clear that during the "14th Five-Year Plan" period, China must vigorously promote the transformation and upgrading of economic structure, energy structure, and industrial structure, and promote the construction of a green and low-carbon circular economic system. This integrated, multi-agency approach would enable high-quality economic development and effective protection of the ecological environment, the first step towards carbon control in new development and modernization.
With the the concepts of green and low-carbon taking root across the board, Oceanpayment is actively responding to China's strategic deployment of the "dual-carbon goal" by continuing to pay attention to its own sustainable development, improving resource utilization efficiency to reduce operating costs and energy consumption. It implements low-carbon environmental protection in the daily management, and strives to achieve green research and development, green operations, which provides society and customers with efficient, environmentally friendly, energy-saving, green and sustainable services, and technologies.
What is green finance?
According to the "Guidelines on Building a Green Financial System" issued by seven ministries and commissions including the People's Bank of China, green finance is defined as economic activities that support environmental improvement, response to climate change, resource conservation and efficient use. That means financial services provided by project investment and financing, project operations, and risk management in the fields of green transportation, green buildings, environmental protection, energy conservation, and clean energy.
The national carbon emission rights trading market (hereinafter referred to as the "carbon market") was launched on July 16, 2021, a clear indicator that China has taken an important step to control greenhouse gas emissions. Carbon emission rights trading is a market-based means to control greenhouse gas emissions. Compared with administrative means, it has the advantages of lower emission reduction costs for the whole society and flexible options for enterprises to reduce emissions. It is an important means for China to achieve the dual carbon goal.
In addition to the direct control of carbon emissions, the "14th Five-Year Plan" has specifically mentioned policies and measures that focus on supporting green finance, emphasizing the need to "implement a special policy for financial support for green and low-carbon development, and establish carbon emission reduction support tools."
The National Development and Reform Commission's official website clearly stated in the "List of the First Batch of Authorized Items for the Pilot Comprehensive Reform of Shenzhen's Construction of a Pilot Demonstration Zone of Socialism with Chinese Characteristics" that Shenzhen is encouraged to develop green finance and financial technology, including the application for the establishment of a green finance reform and innovation pilot zone, and support for the construction of green technological market-oriented innovation system, explore and improve the green financial organization system, standard system, and information management system, and promote the integrated development of financial technology and green finance.
Green Finance & Green Economy – Oceanpayment on it's own way
As a financial technology company based in Hong Kong and Shenzhen, with a strong network around the world, Oceanpayment has raised green finance to a strategic height, and will strengthen the construction of green finance as an important long-term goal. It provides global merchants with technological innovation and service innovation. Convenient and simple digital payment solutions and services promote the rapid development of the digital financial industry, making it possible for the public to participate in financial services through digital technology. Digital technology reduces the use of cash, greatly improves the efficiency and scope of financial services, and reduces the original transaction costs and possible waste.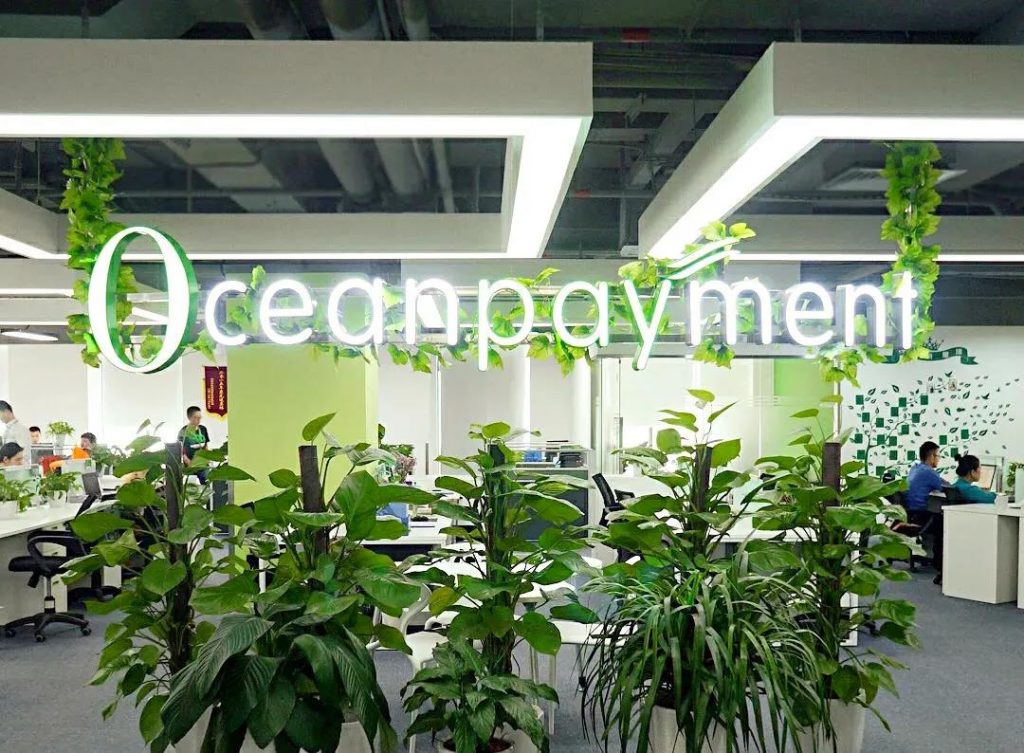 Green Research & Development
Oceanpayment adheres to the strategic thinking of green development, focusing on the improvement of payment technology research and development capabilities. It integrates the green concept into all parts of payment technology research and development. Ensuring that payment technology research and development meets the basic requirements of function, stability and security, Oceanpayment also realizes the payment solutions and services that make global digital payments easier through technological upgrading and innovation.
Green operating system
Oceanpayment promotes the green office in the company and refines energy consumption management. Power consumption is controlled through the refined management design of office energy consumption, such as temperature, time, area, induction control, replacement of energy-saving lamps, establishment of public printers, etc. In the saving and recycling of water and office paper, Oceanpayment conducts promotional activities to save water and minimize water wastage. In addition, it has also implemented related systems to reduce the carbon footprint of employee travel and commuting, for example, taking trains for short-distance business trips, reducing resource wastage in traditional office settings with the goal of reducing carbon emissions.
Oceanpayment Online + Offline solution
During the pandemic, consumers have had to switch from offline to online to meet shopping needs. New business formats and new models based on internet technology showed explosive growth, and the non-contact economy emerged. Fresh food e-commerce, online education, online medical consultations and other online consumption have seen rapid growth. As a fin-tech brand with global digital payment technology and service capabilities, Oceanpayment's online+ offline solution gives full play to the omni-channel support, customization and localization service capabilities of global payment products. Merchants can adopt omni-channel strategies to combine online and offline platforms to attract and serve consumers. Seamlessly connecting the platforms helps merchants adapt to new consumption patterns faster and more safely. At the same time, Oceanpayment's comprehensive risk control system has passed the scenario-based applications of new technologies, such as AI and Big Data, to provide safe escort for every transaction of merchants.
Green Finance in China: Oceanpayment has joined in
Building on many years of industry experience and in-depth market knowledge, Oceanpayment has combined advanced overseas global digital payment technology with China's localized service capabilities to create a one-stop global digital payment technology solution that conforms to the global e-commerce development trend. It has long-term collaboration with Visa and MasterCard, and nearly a hundred other international financial institutions. With the highest level of security certification PCI DSS LEVEL 1 in the global financial industry, Oceanpayment is the world's six major card organizations such as Visa, MasterCard, American Express, Discover, Union Pay International, JCB, and Google Pay, Apple Pay PSP certified technology service providers. Through excellent payment technology, Oceanpayment promotes the process of online consumption, reduces carbon emissions brought by offline consumption, and realizes green and low-carbon payment.
In addition to its focus on low-carbon in the fields of green development, green operation, and green payment innovation, Oceanpayment also gives priority to companies that actively undertake social responsibilities and take actions in the field of low-carbon environmental protection for cooperation. Visa accelerates the realization of net zero emissions. MasterCard has provided consumers in more than ten countries around the world with a card made of environmentally friendly materials such as renewable, biological sources, chlorine-free, biodegradable plastics and marine plastics. AliPay has launched 30 billion green fund and created carbon account for 450 million people. China Southern Airlines is the first in the industry to launch a "green full journey" service and advocate low-carbon and simple travel for passengers. They are all partners with Oceanpayment.
Yi Gang, the governor of the People's Bank of China, clearly stated that in the future, big data, artificial intelligence and other financial technology will have great prospects in the application of green finance. Without digital technology and the internet, participation in green finance will be adversely affected with a knock-on effect on the development of green finance. Through digital technology, greening becomes inclusive and popular, helping the concept of green finance to gain roots in the hearts of the people.
Conclusion:
On the road to achieve the dual-carbon goals, Oceanpayment will adhere to the consistent spirit of innovation and service attitude, contribute to China's low-carbon environmental protection cause, and contribute to the world's sustainable green letter.