In the United States, the back-to-school season is the second largest retail day after Christmas, beating even Mother's Day and Valentine's Day. The back-to-school season in Europe and the U.S. provides merchants with nearly 100 billion market opportunities and is an excellent channel for growth. Don't you want a piece of this pie?
Today's retail ecosystem in the U.S. is vastly different from what it used to be two or three years ago. In the past, back-to-school season meant the whole family spending the entire weekend shopping in preparation for their children to go back to school. They would pick a sunny day to for necessities and school supplies, and expectantly wait for school returning day with all the organized items, then go home to organize the items together, and wait expectantly for school to re-open.
In this era of high-speed e-commerce, the so-called "one-stop" offline activities for back-to-school shoppers have become less popular, since their switch to the more convenient and secure online mode of shopping. Back-to-school shopping has also been transformed into an extended shopping period due to the convenience of online shopping and the many promotional activities made available.
According to data from the National Retail Federation (NRF), about one-third of the consumers will start buying back-to-school items two months before school starts. Nearly half of the consumers will start buying three weeks to one month in advance. This means that shopping will start from the beginning of June, peak during the period from late July to mid-August, and continue through to September.
So, seize the opportunity to make your product stand out in the back-to-school season!
Surveys show that the most popular product during the back-to-school season for American consumers last year was school supplies at 82%, while 64% of consumers bought clothes and accessories for their kids before school reopened. During the COVID-19 pandemic, personal protection and hygiene products also accounted for the bulk of the back-to-school sales, with a consumption ratio of 57%; while electronic products took up 38% of the consumption ratio and office furniture, 21%.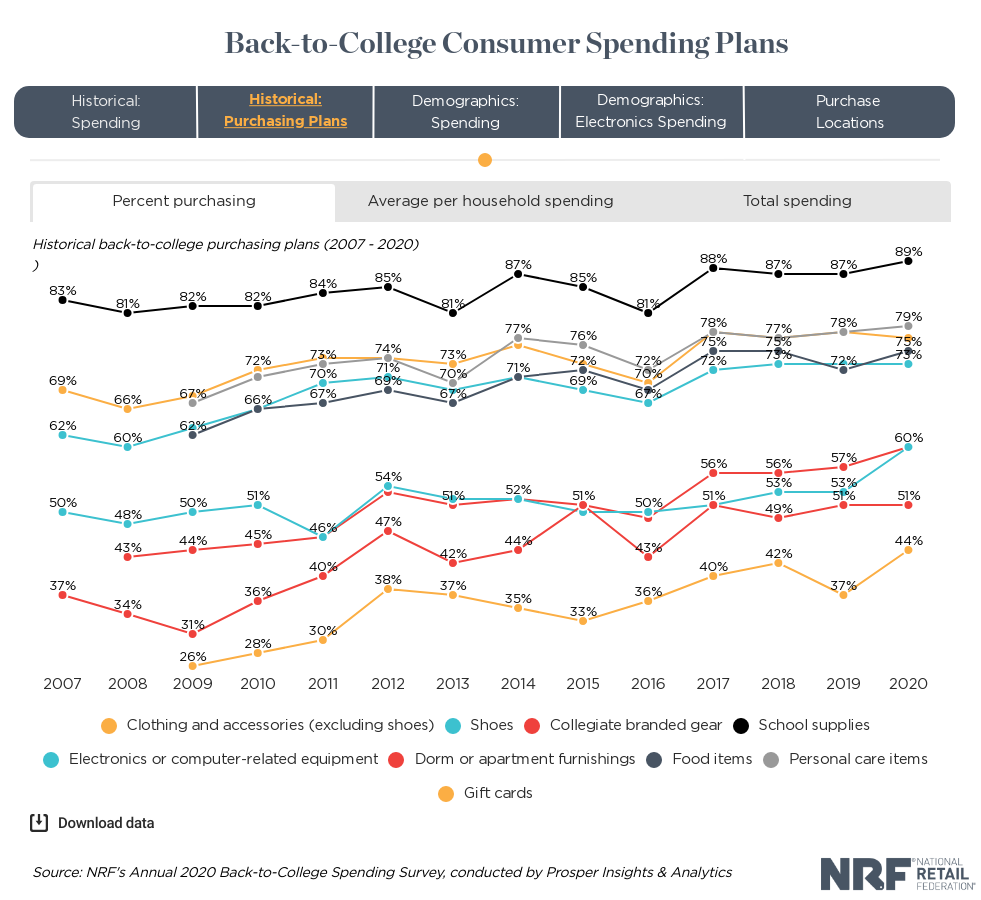 Last year, with many students going online for their classes in the new semester, the demand for electronic products that enabled communication with the school also showed an upward trend. Among them, the most popular categories of online education products include computers (34%), tablets (30%), smartphones (23%) and other electronic accessories such as cameras, microphones, and headphones.
During the pandemic, online shopping is undoubtedly one of the most mainstream consumption patterns for American back-to-school shoppers. According to the forecast of MasterCard Spending Pulse, during the back-to-school season from July 15 to September 6 this year, the back-to-school sales in the United States are expected to increase by 5.5% compared to the same period in 2020.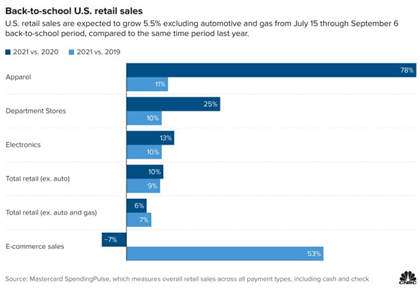 It is expected that the demand for apparel in the back-to-school season this year will usher in greater growth. The clothing category is expected to increase about 78% compared with 2020; followed by sundries which is expected to grow 25% year-on-year.
Some parents feel that the pandemic has taken away some milestone events, for example, the opportunity to volunteer in the classroom on the first day of school. Therefore, such parents may pay more attention to back-to-school shopping this season, in order to fulfill their sense of engagement with their children.
To that end, merchants targeting the markets in Europe and U.S must leverage this golden opportunity and drive their growth to a new high!
A special reminder: In addition to product selection and stock preparation, payment security during peak seasons is also worthy of special attention. Payment by credit card is one of the primary payment methods for students and parents in Europe and the United States. Transaction risks will increase in accordance with the growing volume of orders during the peak seasons. As such, merchants must manage their risk control strategies effectively and on a timely basis, and pay specific attention to suspicious orders.
To that end, it is imperative that the merchant collaborates with an experienced and professional payment service provider. Oceanpayment, a service provider that has been deeply involved in the global digital payment field for many years, has an end-to-end closed-loop risk management system that leverages AI and Big Data to continuously monitors every transaction prior to, during and after its processing.