The Australian e-commerce channel has seen a 23.8 per cent increase for the year ending 2017 compared with the previous year, with grocery e-commerce showing 403,000 new households adopting online shopping, new Nielsen research shows.
The study found in the past 12 months there was a 22.9 per cent increase in new grocery online shoppers, as well as a small increases in spend per trip.
Nielsen said the average household purchased online on 6.7 occasions over the last 12 months, and with the average online transaction of $107.85, up from $104.65 last year.
One category breaking barriers to online grocery shopping is fresh produce. While fresh produce is the slowest growing category online, only growing at 14.5 per cent since last year, there are now 293,000 more households purchasing online than a year ago.
Much of the growth in fresh produce online can be attributed to the growing popularity of fresh convenience produce (45.2 per cent value online) and fresh fruit (7.8 per cent value online) and fresh salad produce (75.1 per cent value online). These three categories account for 66.7 per cent of fresh produce department value growth online in the last year.
online-grocery-retail-nielsen-beverages-pet-supplies-fresh-categories
Beverages and pet supplies are the strongest growing departments online, the study showed. According to Nielsen, the products in these categories are heavy items, so the convenience of being delivered to the front door is being recognised by online customers. In beverages, top items by expenditure include multipacks and two litre bottles. In pet supplies, top items include large pet food bags and litter supplies.
online-now-accounts-for-3-percent-of-total-trade
E-commerce is growing faster than the total market (1.3 per cent), the research indicated, with Coles and Woolworths bricks and mortar (1.9 per cent) and discounters (6.5 per cent), despite only representing 3.0 per cent share of sales today. It is important now more than ever for Australian brands and retailers to have an e-commerce strategy for 2018, especially with the competitive arrival of Amazon in 2017.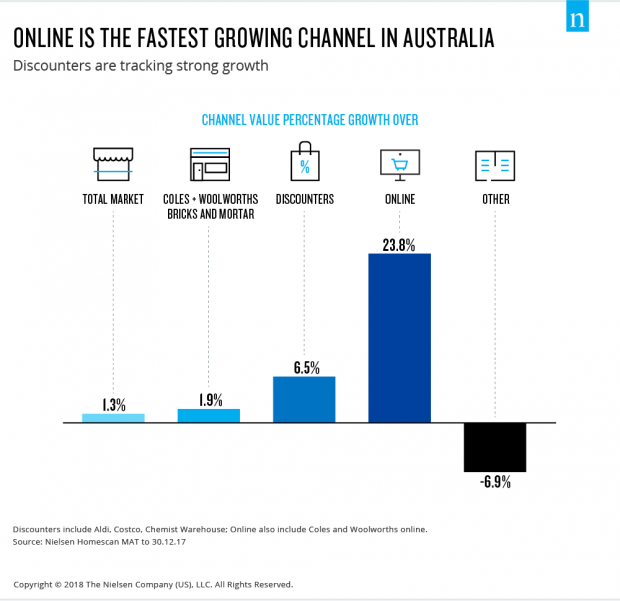 via: Inside Retail