If you've been following the news, you know that Chinese giants are making their presence felt in Southeast Asia.
SHEIN is about to move to Singapore; TikTok has been officially launched in four Southeast Asian countries: Thailand, Vietnam, Malaysia, and the Philippines.
This isn't a new trend – the local e-commerce market has been booming for years. But it's different from the hot European and American markets. Southeast Asian e-commerce is still very much in its infancy, offering opportunities for strategic business development and innovation for sustainable growth.
Five Reasons Why Southeast Asia is Hot And Breaking The Global E-commerce Sales Records
The Southeast Asian e-commerce market has come a long way since 2015, when the Alibaba Group first deployed to the region.
At that time, the Southeast Asian e-commerce market had already been identified as a fast-growing industry, promising sustainable returns on investment. However, the long-awaited take-off has not quite materialized after all these years. Despite the slow burn, due mostly to the lack of a robust, reliable infrastructure including network connections and logistics, and a slow adoption rate for online shopping, this market still remains in the crosshairs of e-commerce companies looking to tap into the massive potential in this region.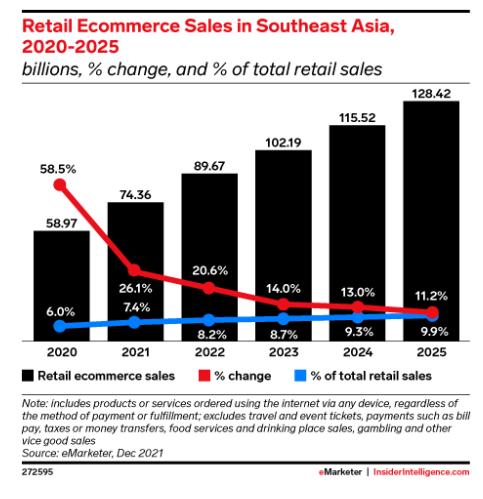 Since 2020, due largely to the pandemic and the prolific adoption of online shopping, the Southeast Asia is now one of the regions with the world's highest growth rate of online shopping. Businesses in this region are again focusing on e-commerce platforms and sellers. According to eMarketer data, in 2021, the Southeast Asian e-commerce market had a total of US$74.36 billion in sales, and this is expected to grow by 20% in 2022 reaching the figure of US$89.67 billion.1
The "massive potential" in Southeast Asia today is very different from pre-2020. Today, through the concerted effort of the relevant stakeholders, the Southeast Asian market is now ready and able to support the future growth of e-commerce within the individual country and as a region.
Here are five reasons why the Southeast Asia is a "hot" growth market targeted to break the global E-commerce sales records:
1. A Huge, Young Population
Southeast Asia is a hotbed for e-commerce growth because the region has a considerable population of more than 600 million people. According to the World Bank, this number is expected to grow to over 1 billion by 2030. Moreover, the region's population is young, with an average age of 30. This means that there are more consumers than ever, and they also have more disposable income. The middle class in Southeast Asia continues to grow and expand its purchasing power. With these two factors in mind, it's no wonder why e-commerce sales has grown exponentially rapidly in Southeast Asia.
2. Rising disposable income
One of the other reasons behind the rise in e-commerce sales is that people are simply getting more prosperous. Even though Asia has some of the lowest household incomes globally, by 2040, these figures are expected to rise significantly. Private consumption is expected to be consistently driven by rising living standards, a rapidly growing middle class, favorable credit circumstances and structural reforms, etc.
According to a recent survey, Asia is expected to experience the fastest rate of growth in total disposable income between 2022 and 2040. Also, the savings rate is the highest in the world, topping 25% of disposable income. The high-income category will continue to be dominated by consumers between the ages of 35 and 49.2
3. Increasing internet penetration and mobile adoption
The usage of mobile Internet is continuously increasing. AS reported by eMarketer, it is anticipated that from 2022 to 2026, the percentage of Southeast Asian Internet users who use smartphones would rise from 53.9 to 57.4 percent.3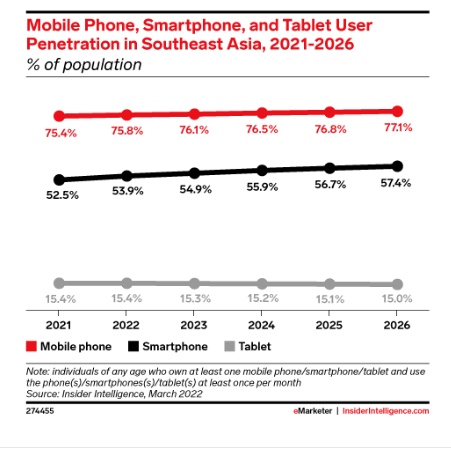 The rapid growth of mobile usage is reflected in increased spending on e-commerce platforms like Lazada and Shopee, operated by Alibaba. These companies have access to data about consumer habits and preferences from millions of customers around Southeast Asia. As more people adopt smartphones and increase their spending power, these companies will further grow their customer base and thus expand their online sales channels.
4. An intense focus on e-commerce
Southeast Asia is the fastest-growing region for e-commerce, the region's 20.6% expansion in 2022 will be the highest in the world. The reason? A strong emphasis on e-commerce development. It is the world's first region to have a billion mobile internet users and the world's second-largest e-commerce market. Southeast Asia has a lot more to offer businesses planning to broaden their reach into new markets.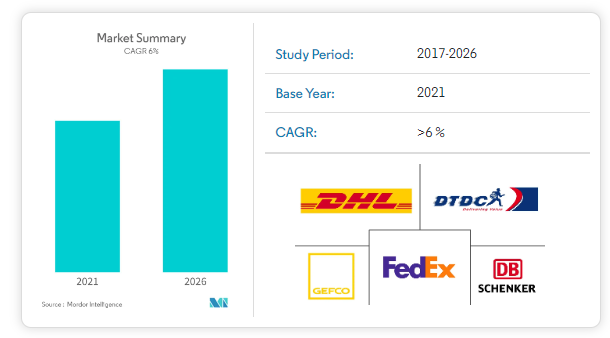 International logistics goliaths DHL, UPS, FedEx, as well as domestic companies Jitu, SF Express, JD.com etc., have extended their foothold in the Southeast Asian market and are now beefing up their services and enhancing the support and infrastructure in Southeast Asia. In ASEAN, e-commerce logistics are anticipated to develop at a rate greater than 6 percent between 2021 and 2026, according to a study analysis by Mordor Intelligence.4
5. A growing online shopper base
The Southeast Asian market is hot, and it's no wonder why. The region has the fastest growing online retail sector worldwide, owing to its large internet user base. In six significant Southeast Asian countries, more than 80 percent of Internet users have completed at least one online transaction, according to the "e-Conomy SEA Report 2021" published by Google, Temasek Holdings, and Bain & Company.5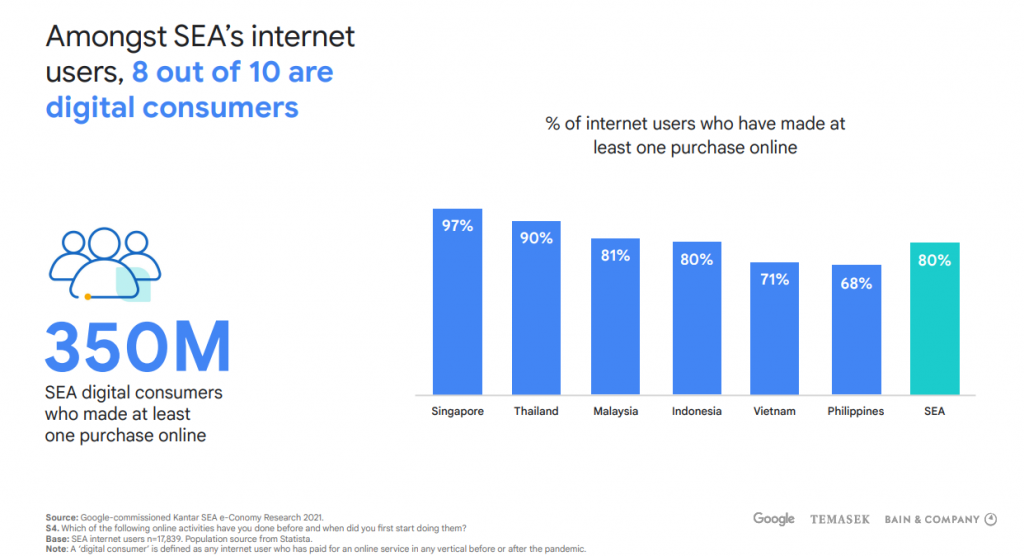 The number of online shoppers in Southeast Asia is also expected to reach 528 million by 2022. And this translates into an annual growth rate of more than 20 percent!
The transition of Payment Methods: From COD to Digital
The old way of paying for purchases was cash on delivery (COD). Customers would go to a store, pick up their products and pay for them at the counter. This method worked well for small businesses that didn't have a lot of cash on hand and needed to order in bulk.
However, as digital payments became more common, things changed. Customers want faster and easier ways to pay for purchases, requiring merchants to update their payment methods.
Now, we're shifting from COD payments to digital payments like credit and debit cards and mobile wallets like Apple Pay or Samsung Pay. And all this positively impacts the E-commerce sector, especially in Southeast Asia.
Rapid Increase of Digital Payments in Southeast Asia
According to the "e-Conomy SEA Report 2021," the use of digital payment is growing rapidly in Southeast Asian nations. In the next one to two years, 92 percent of Southeast Asian merchants plan to increase or maintain their use of digital payment because they believe that these services are vital to their ability to remain in business and to contribute to their country's economic development.6
The report also noted that by 2025, all facets of people's lives in Southeast Asia are expected to be affected by digital payments, with a total transaction value predicted to reach 1.1 trillion US dollars.
It is said that more than 80% of people in Southeast Asia use their phones for shopping, and over half use mobile wallets as their preferred payment method. This is especially true for young people—69% of 15-24-year-olds say they do so.
The most popular method for making digital payments is through mobile phones. More than half (60%) of all transactions are conducted via mobile devices. Many people prefer using cashless payment options like credit cards or debit cards because they are convenient and easy to use.
Regional Comprehensive Economic Partnership
It's no secret that the Southeast Asian region is a hotbed of economic activity. With its wealth of natural resources, vibrant culture, and growing middle class, the region is a significant player on the global stage.
The RCEP (Regional Comprehensive Economic Partnership) is an agreement between the ten member states of ASEAN and five other countries that seek to boost trade between these two blocs. This partnership aims to increase exports and imports by reducing tariffs on goods and services. It also aims to reduce non-tariff barriers such as quotas, subsidies, or customs procedures that impede trade between partnership members.
Through RCEP, Southeast Asian countries will create a free trade zone to improve their economies through increased trade and investment between member countries. The agreement aims to boost growth in developing and developed economies by opening up new markets for goods and services across borders within Asia-Pacific regions.
How Oceanpayment is Facilitating The Masses and e-commerce
In 2018, Oceanpayment selected Singapore as an important location for its globalization, building a complete and professional staff and technical team here. After years of localization, Oceanpayment can not only provide credit card payments and convenience store payments that Southeast Asian consumers love, but also offer one-stop, customized payment solutions such as e-wallets, online banking transfers, etc., covering more than 95% of Southeast Asian consumers. With professional and refined operation support services based on Southeast Asian market culture, regulations and policies, Oceanpayment helps businesses in the region to successfully land in the Southeast Asian market.
Final Words:
Southeast Asia is a rich and promising market that has many unrealized opportunities ripe for development now. Only by using mature operation methods to quickly seize the market can we have the opportunity to draw a more ambitious blueprint. Oceanpayment is committed to helping you achieve your goals by providing the payment infrastructure you need to succeed in this challenging environment.
References:
1 Southeast Asia sees the fastest digital sales growth in the world
https://www.emarketer.com/content/southeast-asia-sees-fastest-digital-sales-growth-world
2 Income and Expenditure in Asia Pacific, October 2021
https://www.euromonitor.com/income-and-expenditure-in-asia-pacific/report
3 Southeast Asia Digital Users Forecast 2022
https://www.insiderintelligence.com/content/southeast-asia-digital-users-forecast-2022
4 Southeast Asia Cross-border E-commerce Market
https://www.mordorintelligence.com/industry-reports/southeast-asia-cross-border-e-commerce-market
5 e-Conomy SEA https://economysea.withgoogle.com/
6 e-Conomy SEA https://economysea.withgoogle.com/