As the goalkeeper for the online shopping journey, an excellent payment experience will improve the conversion and retention rate for e-commerce websites, while an unsatisfactory experience will have a direct impact and result in loss of revenue.
Oceanpayment, the leading cross-border payment service in China, has worked closely with Shopify, the world's leading global commerce company, to bring the best experience to merchants and shoppers. Recently, the partnership has leveled up for Oceanpayment to provide a newly launched solution with Shopify's onsite credit card processing. This allows the consumers to pay without being redirected, creating a safer, easier and seamless payment journey for both the merchants and shoppers.
As part of Shopify's Payments Platform, Shopify's onsite credit card processing helps simplify the payment process and reduce payment barriers. In the past, consumers were forced to bounce between pages to make a payment. Now with Shopify's onsite credit card processing, consumer simply enters their credit card information on a secure one-pager checkout experience. This removes the need to provide payment details on a third-party page and has truly unlocked a seamless payment experience for the shoppers.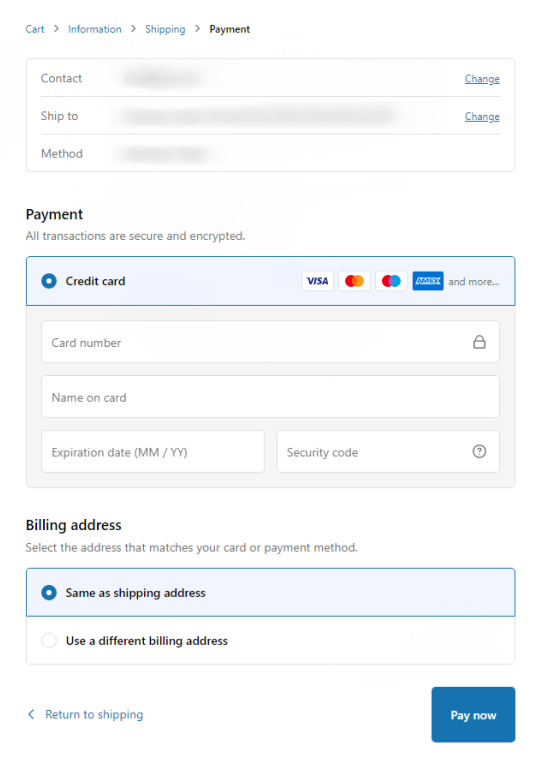 Shopify onsite credit card processing:Improving Sales Performance for Merchants
Minimize payment redirection and optimize payment conversion
Shoppers always long for quick, smooth and safe payment experience. When it gets too complicated or lengthy they tend to give up on payments, increasing shopping cart abandonment rates. Shopify's onsite credit card processing reduces the number of steps required for a customer to complete payment. Given the seamless shopping journey, most of the merchants believe that it can help to improve conversion and retention.
Consistent website presentation, increase repeat purchases
Consistency in website presentation is vital for marketing. This helps the consumers better navigate merchant stores, building an overall brand image and strengthening shopping experience between consumers and merchants. Shopify's onsite credit card processing improves the website consistency by avoiding the need to jump onto a third-party payment page.
Since partnering with Shopify in 2016, Oceanpayment has helped thousands of Shopify merchants to transform from marketplace to SaaS platform.
Kid Chan, Head of Partnership & Australia Country Manager of Oceanpayment advised that having a common goal has kept a strong tie between the two. Just like Shopify, Oceanpayment is always looking to continuously improving consumer payment experience and merchant revenue security through our own professional skills and services. The launch of Shopify's onsite credit card processing is another milestone we have accomplished together. We are thrilled for more payment opportunities in the future to better enable global trades.
Oceanpayment is dedicated to deliver secure, convenient, professional and simple technical and service solutions, constantly evolving around new industries, concepts and values. Through its professional product development and remarkable service ability, Oceanpayment has unlocked efficient one-stop payment services for global merchants. With the previous projects and the recent launch of Shopify's onsite credit card processing, Oceanpayment has proved its excellent ability in payment services and the partners' recognition and acknowledgement towards each other.
Looking forward, Oceanpayment and Shopify will continuously join hand to strengthen the cross-border e-commerce journey for global merchants and enterprises, provide professional technical and services solutions to accomplish more and beyond.