Chinese consumers are shopping online more than ever. However, the Chinese market is unexplored for EU merchants. This is due to long shipping and clearance times and a lack of knowledge regarding regulations and logistics. Here's a look at the WeChat Pay customs push solution and how it can drastically solve the issues: 
Digital Retail In China 
Digital retail sales in China are skyrocketing. They are soon expected to surpass those in the United States based on information released by the Chinese government data. According to the National Bureau of Statistics of China, online retail sales in China totalled an estimated $1.33 trillion in 2018, a 24 % increase in comparison to the previous year. 
Due to their drastic increase in recent years, Chinese shoppers are undoubtedly re-shaping online retail and current trends as we know them. We should consider several factors that are most likely to affect purchasing behaviour for Asia Pacific consumers. Firstly, more and more Chinese shoppers consider quality more important than cost. They want high-quality products that other consumers approve of. Furthermore, they often opt to purchase these products from places that are considered high-quality markets such as Europe. Secondly, one of the most important factors which shape the purchasing decision of Chinese consumers is fast and free shipping. Consumers are not willing to wait a significant amount of time to receive their products and would opt for a more expensive product as long as it guarantees faster and cheaper shipping.  

Problems Associated With Chinese Imports 
Unfortunately, Chinese online consumers are an untapped market for many European merchants currently. This is due not only to a lack of information and uncertainty regarding regulations, shipping, and customs logistics in China but also due to certain hurdles that EU merchants and consumers must endure in order to complete an order from the EU. 
Currently, there are 2 ways a merchant can import goods to China – "Direct Purchase Import" and "Bonded Import". In regards to the "Direct Purchase Import" option shipping of products would take from 2 to 4 weeks, a shipping time that Chinese consumers are not willing to wait. "Bonded Import", reducing the time on the international transportation line, and the consumers are able to obtain the goods faster. Therefore, the customer could have a better shopping experience.
Solution To Long Clearance Times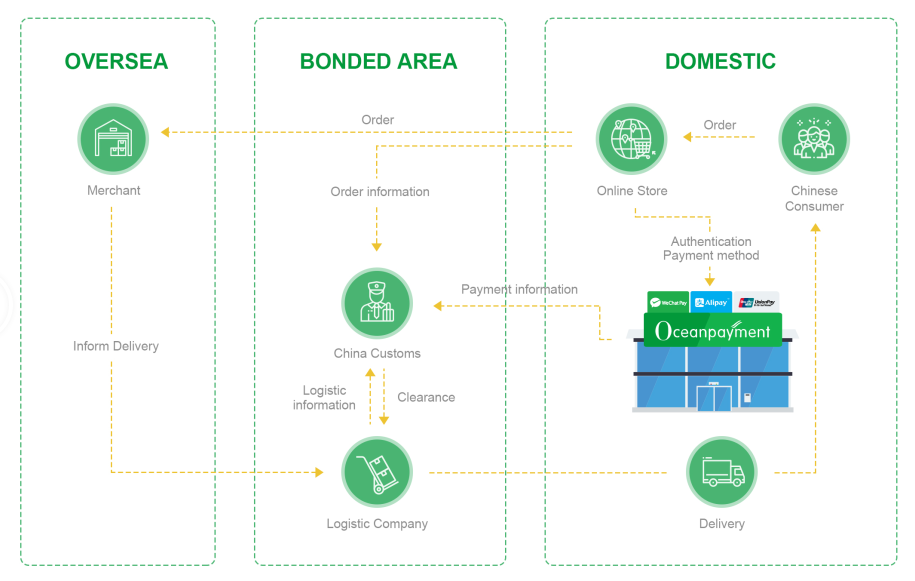 With Oceanpayment's support in providing solutions on payment data (the key element of "The Order, Payment and Logistic Information Matching"), the merchant shortens the lead time in getting approval on importing product via the bonded area. Oceanpayment has found a way to improve customer experience by reducing shipping times due to tedious and timely Chinese Customs. Let's say that a Chinese consumer uses WeChat Pay to make a purchase from an EU merchant. Oceanpayment will then collect the merchant's order information. It will then combine it with the consumer's authentication and payment information, sending it directly to  Chinese Custom ports. Furthermore, once the merchant sends the goods, all the necessary information which Oceanpayment has sent is already processed and the goods can directly be released for delivery to the customer. This drastically minimizes shipping times, leaving consumers with a good customer experience. Currently, Oceanpayment supports 11 major customs and electronics ports in China and helping push payment information quicker. 
The WeChat Pay customs push by Oceanpayment is a great way for EU merchants to penetrate the Chinese market in an easy and hassle-free way. Oceanpayment provides a quick and easy fix for long shipping times, allowing EU merchants to take full advantage of the market. It also leaves Chinese consumers satisfied and benefits their business in the long-run. 
Could the WeChat Pay customs push feature to be beneficial to you? Find more information on the website.